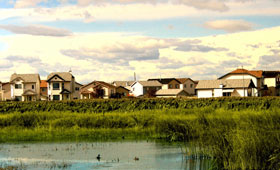 Martindale Community Background
Martindale is a residential neighbourhood in the north-east quadrant of Calgary, Alberta. It is bounded to the north by 80 Avenue N, to the east by Falconridge Boulevard, to the south by 64 Avenue N and to the west by 44 Street E. A LRT station is currently under construction in the area and is expected to open in fall of 2012. The area was annexed to the City of Calgary in 1961 and Martindale was established in 1983. It is represented in the Calgary City Council by the Ward 5 councillor.
Martindale Community Association
110 Martin Crossing Park NE
Calgary, AB | T3J 3N7
Phone:403.930.6188 Ext 2
www.genesis-centre.ca
martindale_community@

null

yahoo.ca
Calgary Martindale Community Association Office is located inside The Genesis Centre. 7555 Falconridge Blvd. NE Calgary T3J OC9. Skating Rink, Park and garage 110 Martin Crossing Park N.E. Calgary. T3J 3N7. It sponsored 3 students to attend YMCA summer program last year and it hosts a number of special event each year, including Stampede dinners, a silent auction and dance, kids' movie nights and skate parties on the community skating rink. This rink doubles as a skateboard park in the summer, and local teen entrepreneurs have set up a snack shop nearby. To raise money for these projects the community holds fundraising casinos once every 18 months. Martindale enjoys a good relationship with the neighbouring communities of Falconridge and Castleridge. Thus, while the community does not offer any programming at this time, residents are welcome to take part in the extensive programs offered at these nearby communities.
Martindale Community Social Media Updates
Martindale Community Elected Officials

Martindale is represented in the Calgary City Council by Ward 5 Martindale is also a part of the Calgary-McCall Provincial Electoral District.
Martindale Community Real Estate Statistics
Martindale Active Listings
Martindale Community Demographics
In the City of Calgary's 2012 municipal census, Martindale had a population of 13,674 living in 3,912 dwellings, a 5.3% increase from its 2011 population of 12,987. With a land area of 2.7 km2 (1.0 sq mi), it had a population density of 5,060/km2 (13,120/sq mi) in 2012.
Residents in this community had a median household income of $65,185 in 2005, and there were 18.1% low income residents living in the neighbourhood. As of 2006, 39.4% of the residents were immigrants. A proportion of 3.0% of the buildings were condominiums or apartments, and 12.6% of the housing was used for renting. For more detailed info visit the 
City of Calgary
 community profiles site.
Martindale Community Babysitters
This Community Babysitter List is brought to you by
MyBabysitter.ca
Click on the Babysitter's name to view profile & contact information.
Martindale Community Map – Northeast Calgary