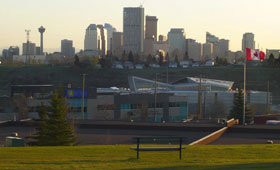 Mayland Heights Community Background
Mayland Heights is a residential neighbourhood in the north-east quadrant of Calgary, Alberta. It is bounded by Barlow Trail to the east, Memorial Drive to the south, Deerfoot Trail to the west and Trans-Canada Highway to the north. The land was annexed to the City of Calgary in 1910. Originally called Crossroads, the community was established in 1962. It is represented in the Calgary City Council by the Ward 3 councillor.
Mayland Heights Community Association
Box 37027, RPO Mayland Heights NE
Calgary, AB | T2E 8V1
Phone:403.277.6201
www.about.me/crossroads.community
crossroadscommunity@

null

shaw.ca
Crossroads Crossroads community association consists of the communities of Mayland Heights, Belfast and Vista Heights. These three communities are located in the city's northeast, south of the Calgary International Airport. The Crossroads community association is very active within the community. As a reflection of this older neighbourhood, the community's Fifty Plus Club is very active, engaging in tours, potlucks, and dinner theatre activities. The community also holds several fundraising bingos each year. For the younger set, the Crossroads preschool is very popular. Girl Guides, Boy Scouts and Blockwatch all make use of the community centre for meetings. Crossroads offers a number of courses as well, in activities ranging from crafts to soccer and babysitting to parent and tot time. Special events are popular in Crossroads as well, and their annual Stampede breakfast is always a big hit.
Mayland Heights Community Social Media Updates
Mayland Heights Community Elected Officials

Mayland Heights is represented in the Calgary City Council by Ward 10 Mayland Heights is also a part of the Calgary-East Provincial Electoral District.
Mayland Heights Community Real Estate Statistics
Mayland Heights Active Listings
Mayland Heights Community Demographics
In the City of Calgary's 2012 municipal census, Mayland Heights had a population of 5,833 living in 2,787 dwellings, a 0% increase from its 2011 population of 5,835. With a land area of 2 km2 (0.77 sq mi), it had a population density of 2,900/km2 (7,600/sq mi) in 2012.
Residents in this community had a median household income of $49,581 in 2000, and there were 14.5% low income residents living in the neighbourhood. As of 2000, 16.1% of the residents were immigrants. A proportion of 29.6% of the buildings were condominiums or apartments, and 42% of the housing was used for renting. The area can also be noted for its large Italian community. For more detailed info visit the 
City of Calgary
 community profiles site.
Mayland Heights Community Babysitters
This Community Babysitter List is brought to you by
MyBabysitter.ca
Click on the Babysitter's name to view profile & contact information.
Mayland Heights Community Map – Northeast Calgary