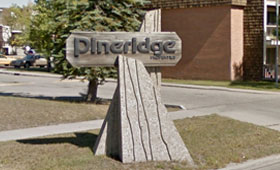 Pineridge Community Background
Pineridge is a neighbourhood in Northeast Calgary, Alberta, Canada, and is one of four neighbourhoods that make up what is called the Properties, along with Whitehorn, Temple, and Rundle. It is bordered by 32 Ave NE to the North, 52nd Street NE to the West, 16th Avenue NE (Highway 1 – the Trans Canada Highway) to the South, and 68th Street NE to the East. The Village Square Leisure Centre is situated within the community and the city's pathway system offers recreational opportunities for local residents.
Pineridge Community Association
6024 Rundlehorn Dr NE
Calgary, AB | T1Y 2X1
Phone:403.293.3626
www.pineridgecommunity.ca
info@

null

pineridgecommunity.ca
The Pineridge community association is very active within the community. It is run by volunteer neighbours and helps bring residents together, It acts as a voice for the community, and offers endless opportunities right in your backyard, Most importantly, the community association is dedicated to making sure your community is a great place to live, work, and play. Purchasing a community association membership is a great way to get involved and show your support for the many ways your neighbours work to ensure you love where you live.
Pineridge Community Social Media Updates
Pineridge Community Elected Officials

Pineridge is represented in the Calgary City Council by Ward 5 Pineridge is also a part of the Calgary-Cross Provincial Electoral District.
Pineridge Community Real Estate Statistics
Pineridge Active Listings
Pineridge Community Demographics
In the City of Calgary's 2012 municipal census, Pineridge had a population of 9,644 living in 3,799 dwellings, a 0.2% increase from its 2011 population of 9,626. With a land area of 2.6 km2 (1.0 sq mi), it had a population density of 3,710/km2 (9,610/sq mi) in 2012.
Residents in this community had a median household income of $49,452 in 2000, and there were 17.9% low income residents living in the neighbourhood. As of 2000, 29.2% of the residents were immigrants. A proportion of 17.5% of the buildings were condominiums or apartments, and 32.4% of the housing was used for renting. For more detailed info visit the 
City of Calgary
 community profiles site.
Pineridge Community Babysitters
This Community Babysitter List is brought to you by
MyBabysitter.ca
Click on the Babysitter's name to view profile & contact information.
Pineridge Community Map – Northeast Calgary