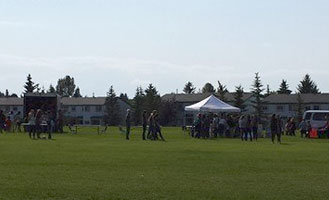 Temple Community Background
Temple is located in northeast Calgary. Although the area was annexed in 1961, it did not develop until 1977. Temple, along with neighboring communities of Pineridge, Rundle and Whitehorn, was originally referred to as The Properties. Temple is in close proximity to a number of employment opportunities, including at the Calgary International Airport and the Northeast Industrial areas. Nearby recreational opportunities include the Village Square Leisure Centre and regional bike paths. There are also a number of schools in the area.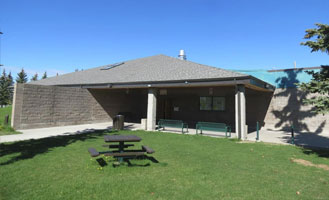 Temple Community Association
167 Templegreen Rd NE
Calgary, AB | T1Y 6G3
Phone:403.280.5466
www.templecalgary.ca
temp11@

null

telus.net
The Temple Community Association is a vibrant, respectful, inclusive organization that promotes community involvement and pride in OUR community. It is run by a group of dedicated volunteers for the benefit of the businesses and residents of Temple. The Temple community hall contains both large and small meeting places that play host to a variety of community groups. The Brownies, Cubs, Scouts, first aid, babysitting courses, and a preschool are just a few of the groups and activities that take place in the hall. The community association also maintains a tennis court, an all season rink, and a basketball court. A number of sports programs are facilitated through the community association, including a popular adult slo-pitch league. Temple also hosts a number of special events, including monthly dances for adults and jellybean dances for children. The popular Temple Days, which consists of family fun events, take place annually at the beginning of June. Temple is also a participant in SAIT's Community Access Program, which enables residents to access the internet.
Temple Community Social Media Updates
Temple Community Elected Officials

Temple is represented in the Calgary City Council by Ward 5 Temple is also a part of the Calgary-Cross Provincial Electoral District.
Temple Community Real Estate Statistics
Temple Active Listings
Temple Community Demographics
In the City of Calgary's 2012 municipal census, Temple had a population of 10,894 living in 3,648 dwellings, a 3% increase from its 2011 population of 10,580. With a land area of 2.6 km2 (1.0 sq mi), it had a population density of 4,190/km2 (10,850/sq mi) in 2012.
Residents in this community had a median household income of $59,074 in 2000, and there were 18.7% low income residents living in the neighbourhood. As of 2000, 30% of the residents were immigrants, predominantly of East Indian origin. A proportion of 5.4% of the buildings were condominiums or apartments, and 22.6% of the housing was used for renting. For more detailed info visit the 
City of Calgary
 community profiles site.
Temple Community Babysitters
This Community Babysitter List is brought to you by
MyBabysitter.ca
Click on the Babysitter's name to view profile & contact information.
Temple Community Map – Northeast Calgary