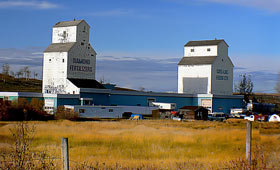 De Winton Community Background
De Winton is a hamlet located within the Municipal District of Foothills of Alberta, Canada. It lies just south of Calgary, Alberta, Canada, west of Highway 2A (MacLeod Trail). The name is also often spelled Dewinton, even on highway directional signs.
In the 1990s the area was had no extensive suburban development but with the growth of the City of Calgary to the north, the population has more than doubled in the last ten years. This growth can almost be exclusively credited due to The Lake at Heritage Pointe development. This affluent community is centered around a man made lake in the south and forested ravines in the north part of the community. A recent Calgary Herald news report showed that Heritage Pointe had some of the highest home values in the Province.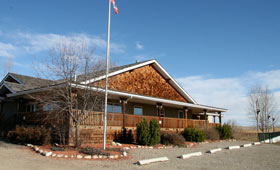 De Winton Community Association
Box 111
De Winton, AB T0L 0X0
Phone: (403) 938-2525
www.dewintonca.com
dwca@

null

platinum.ca
The De Winton Community Centre is an ideal venue for hosting community and family functions, club or association meetings, public open houses and training sessions as well private banquet and reception events.The De Winton Community Centre is a hidden jewel in the rural Calgary countryside. Located in the village of DeWinton, just east of Highway 2a, De Winton Community Centre is 10 minutes south of Calgary, and 10 minutes north of Okotoks.
The main hall accommodates up to 196 for a seated dinner, and boasts a beautiful hardwood floor. The high vaulted ceiling provides a spacious feel to the room. As well, the conversation area, accented with country décor, features a gas fireplace as its centerpiece. A well lit, wrap around veranda provides guests an opportunity to enjoy the country air and the panoramic view of the valley and the mountains.
De Winton Community Newsletter
Your De Winton is a free glossy covered community newsletter published monthly (12 times per year), and delivered to every household, apartment and business in De Winton. Consisting of community news, event notifications, philanthropic initiatives, real estate statistics, and babysitter lists, Your De Winton community newsletter has strong and consistent readership and advertising visibility.


Magazine Style Publications
Glossy Full Color Covers
Circulation: 3,600 Households
12 Publications per Year
Community Calendar
News, Events & Photos
Community Programs
Sports Registrations
Church Announcements
School Announcements
Real Estate Updates
Community Babysitter List
Elected Officials
De Winton is also a part of the Highwood Provincial Electoral District.

MLA Wayne Anderson
MLA Highwood
Unit 5, 49 Elizabeth Street
Okotoks, AB - Canada T1S 2C1
Phone:
(403) 995-5488
Fax:
(403) 995-5490
Email:
highwood@

null

assembly.ab.ca
De Winton Community Real Estate Statistics
De Winton Active Listings
De Winton Community Demographics
Statistics Canada has not recently published a population for De Winton. However, Industry Canada shows that De Winton's greater rural area had a total population of 1,835 living in 636 dwellings in 2001. With a land area of 132.65 km2 (51.22 sq mi), its greater rural area has a population density of 13.8 /km2 (36 /sq mi). For more detailed info visit the 
City of Calgary
 community profiles site.
De Winton Community Babysitters
This Community Babysitter List is brought to you by
MyBabysitter.ca
Click on the Babysitter's name to view profile & contact information.
| Babysitter Name | Age | Rate | Course |
| --- | --- | --- | --- |
De Winton Community Map – Nearby Calgary Calgary

[flexiblemap src="http://great-news.ca/Communities/Calgary/Nearby/DeWinton/Community.kml" width="95%" height="580″ zoom="14″ kmlcache="8 hours"]
We strive to connect community associations, community members, and local businesses with insightful newsletters. If you are interested in having your community newsletter published by Great News Publishing, or want to advertise please feel free to
contact us.
Contact Us
Menu
Social Media