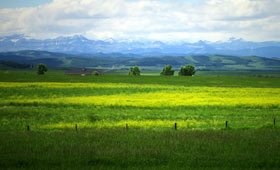 Okotoks History
The town's name is derived from "ohkotok", the Blackfoot First Nation word for "rock". The name may refer to Big Rock, the world's largest known glacial erratic, situated about 7 km (4.3 mi) west of the town. Before European settlement, journeying First Nations used the rock as a marker to find the river crossing situated at Okotoks. The tribes were nomadic and often followed large buffalo herds for their sustenance.
David Thompson explored the area as early as 1800. Soon trading posts sprang up, including one established in 1874 at the Sheep River crossing on the current Okotoks townsite. This crossing was on a trade route called the Macleod Trail, which led from Fort Benton, Montana to Calgary. In 1879, the area saw the killing of the last buffalo. Government leasing of land for one cent per acre ($2.47/km²) began in 1880. This created a major change in the region. The first settlers arrived in 1882.
A community grew up around a sawmill that was established in 1891, and it would grow in size. The last stagecoach stopped in Okotoks in 1891 when rail service between Calgary and Fort Macleod replaced horse-drawn travel. By 1897 the community name had changed three times: from Sheep Creek to Dewdney to Okotoks, assigned by the Canadian Pacific Railway. The rail line is still a main line south to the U.S. border, but the last of the passenger service (Dayliner unit) ended in 1971. The town celebrated its centennial in 2004.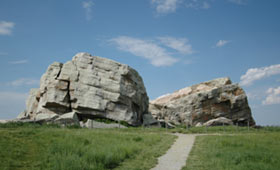 The Town of Okotoks
5 Elizabeth Street
Okotoks, Alberta T1S 1K1
Phone: 403.938.4404
www.okotoks.ca
Okotoks Community Newsletter
Your Okotoks is a free glossy covered community newsletter published monthly (12 times per year), and delivered to every household, apartment and business in Okotoks. Consisting of community news, event notifications, philanthropic initiatives, real estate statistics, and babysitter lists, Your Okotoks community newsletter has strong and consistent readership and advertising visibility.


Magazine Style Publications
Glossy Full Color Covers
Circulation: 12,600 Households
12 Publications per Year
Community Calendar
News, Events & Photos
Community Programs
Sports Registrations
Church Announcements
School Announcements
Real Estate Updates
Community Babysitter List
Okotoks Community Social Media Updates
Okotoks Elected Officials
The city of Okotoks is represented by

Okotoks is also a part of the Highwood Provincial Electoral District.
Okotoks Community Real Estate Statistics
Okotoks Active Listings
Okotoks Community Demographics
The Town of Okotoks' 2013 municipal census counted a population of 26,319, a 5.4% increase over its 2012 municipal census population of 24,962. At its current population, Okotoks is the largest town in the province and is eligible for city status. According to Alberta's Municipal Government Act, a town is eligible for city status when it reaches 10,000 residents.
Almost 3% of Okotoks residents identified themselves as aboriginal at the time of the 2006 census. About 93% of residents identified English as their first language while 1.4% identified French and 1.0% identified German as their first language learned. The next most common languages were Spanish, Tagalog, Chinese, Korean, and Slovak. For more detailed info visit the 
City of Calgary
 community profiles site.
Okotoks Community Babysitters
This Community Babysitter List is brought to you by
MyBabysitter.ca
Click on the Babysitter's name to view profile & contact information.
Okotoks Community Map – Greater Calgary Area Calgary