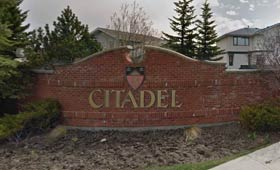 Citadel Community Background
Citadel is located in Calgary's northwest, and is designed so that the roads form the shape of a wheel with spokes. It is bordered by Country Hills Boulevard to the south, and Sarcee Trail to the east. It is a relatively new community, and was formed in 1993. There are many pathways in the community which emanate to the central hub where there is a large recreational green space. The central hub contains a scenic central park with tree lined pathways, a creative playground, an outdoor hockey rink, tennis and basketball courts, soccer pitches, baseball diamonds and open spaces.
Citadel Community Association
860 Citadel Dr. NW
Calgary, AB - T2G 4B8
Phone: 403.397.3454
www.citadelca.ab.ca
boardmail@

null

citadelca.ab.ca
Although Citadel does not yet have a community centre, it has an active community association. The association keeps the neighborhood informed of community news via its newsletter, the Citadel link. The community association also puts on an annual Stampede breakfast, complete with food hayrides and entertainment, as well as a winter gala. The community association also engages in a community beautification project to keep the Citadel parks and gardens well maintained.
Citadel Community Newsletter
Your Citadel Hawkwood is a free glossy covered community newsletter published monthly (12 times per year), and delivered to every household, apartment and business in Citadel. Consisting of community news, event notifications, philanthropic initiatives, real estate statistics, and babysitter lists, Your Citadel Hawkwood community newsletter has strong and consistent readership and advertising visibility.


Magazine Style Publications
Glossy Full Color Covers
Circulation: 7,100 Households
12 Publications per Year
Community Calendar
News, Events & Photos
Community Programs
Sports Registrations
Church Announcements
School Announcements
Real Estate Updates
Community Babysitter List
Citadel Community Elected Officials

Citadel is represented in the Calgary City Council by Ward 2 Citadel is also a part of the Calgary Hawkwood Provincial Electoral District.

Citadel is represented in Ottawa by the Member of Parliament for Calgary Rocky Ridge
Citadel Community Real Estate Statistics
Citadel Active Listings
Citadel Community Demographics
In the City of Calgary's 2012 municipal census, Citadel had a population of 10,197 living in 3,479 dwellings, a 0.3% increase from its 2011 population of 10,171. With a land area of 2.7 km2 (1.0 sq mi), it had a population density of 3,780/km2 (9,780/sq mi) in 2012.
Residents in this community had a median household income of $80,085 in 2000, and there were 7.7% low income residents living in the neighborhood. For more detailed info visit the 
City of Calgary
 community profiles site.
Citadel Community Babysitters
This Community Babysitter List is brought to you by
MyBabysitter.ca
Click on the Babysitter's name to view profile & contact information.
Citadel Community Map – Northwest Calgary
Citadel Schools
Citadel is home to the following schools.
| School | Phone | Address |
| --- | --- | --- |
| Citadel Park School | (403) 777-8063 | 808 Citadel Drive NW |
| St. Brigid | (403) 500-2113 | 730 Citadel Way NW |
Citadel Churches
The following churches are located in Citadel.
| Church | Phone | Address |
| --- | --- | --- |
| Rejoice Church | (403) 313-2349 | 148 Citadel Close NW |
| Westside Calgary Chinese Alliance Church | (403) 239-2990 | 6600 Country Hills Boulevard NW |