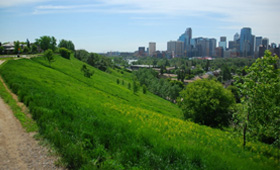 Crescent Heights Community Background
Crescent Heights is one of Calgary's oldest residential communities, having been partially developed before its annexation in 1911. The area is situated above the north escarpment of the Bow River Valley and is bisected by Centre Street; which provides direct access to the Downtown. Commercial uses straddle Centre Street. The Trans Canada Highway forms the north edge of the community, Edmonton Trail the east edge and 4th St N.W. the west edge.
Crescent Heights Community Association
1101-2nd St. NW
Calgary, AB | T2M 2V7
Phone:403.276.1002
www.crescentheightsyyc.ca
chcaboard@

null

hotmail.com
The Crescent Park Community Association was organized in 1947 and incorporated in 1948. Its purpose was to arrange community recreational projects and physically improve the district. By 1973, as a result of decreased community commitment, lack of participation in activities, and low attendance of meetings, the community club ceased to exist. In September 1974 a group of citizens met to reactivate the club and in 1976 its name was changed to the Crescent Heights Community Association.
Crescent Heights Community Newsletter
The Crescent Heights View is the official Crescent Heights Community Association Newsletter. The Crescent Heights View is a free glossy covered magazine style newsletter published monthly (12 times per year), and delivered to every household, apartment and business in Crescent Heights. Consisting of community news, event notifications, philanthropic initiatives, real estate statistics, and babysitter lists, The Crescent Heights View community newsletter has strong and consistent readership and advertising visibility.


Magazine Style Publications
Glossy Full Color Covers
Circulation: 5,400 Households
12 Publications per Year
Community Calendar
News, Events & Photos
Community Programs
Sports Registrations
Church Announcements
School Announcements
Real Estate Updates
Community Babysitter List
Crescent Heights Community Social Media Updates
Crescent Heights Community Elected Officials

Crescent Heights is represented in the Calgary City Council by Ward 7 Crescent Heights is also a part of the Calgary-Mountain View Provincial Electoral District.
Crescent Heights Community Real Estate Statistics
Crescent Heights Active Listings
Crescent Heights Community Demographics
In the City of Calgary's 2012 municipal census, Crescent Heights had a population of 6,271 living in 3,614 dwellings, a 6.4% increase from its 2011 population of 5,895. With a land area of 1.6 km2 (0.62 sq mi), it had a population density of 3,920/km2 (10,200/sq mi) in 2012.
Residents in this community had an median household income of $43,123, and there were 19.7% low income residents living in the neighbourhood. As of 2000, 18.7% of the residents were immigrants. A proportion of 9.5% of the buildings were condominiums or apartments, and 6.8% of the housing was used for renting. For more detailed info visit the 
City of Calgary
 community profiles site.
Crescent Heights Community Babysitters
This Community Babysitter List is brought to you by
MyBabysitter.ca
Click on the Babysitter's name to view profile & contact information.
Crescent Heights Community Map – NE Calgary