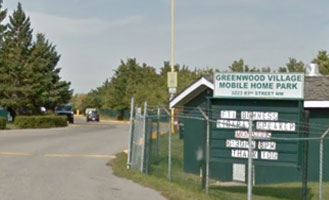 Greenwood-Greenbriar Community Background
Greenwood-Greenbriar is a residential neighbourhood in the north-west quadrant of Calgary, Alberta. It is bounded by the Trans-Canada Highway to the south, the Bow River to the north, Stoney Trail to the west and the community of Bowness to the east. Canada Olympic Park borders the neighbourhood to the south. The community consists primarily of a mobile home park, Greenwood Village; maps since the early 1980s have shown proposed streets south of the mobile home park and north of the Trans-Canada, but as of 2008 no construction has actually occurred.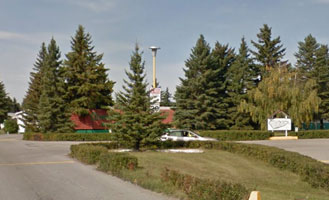 Greenwood-Greenbriar Community Association
7904-43 Ave NW
Calgary, AB | T3B 4P9
Phone:403.288.8300
Fax:403.288.8307
www.mybowness.com
mybowness@

null

gmail.com
The community hall consists of a huge main room with a stage, indoor and outdoor rinks, meeting rooms and playing fields. A number of groups and activities make use of the hall, including the Bowness Historical Association, Boy Scouts, Girl Guides, satellite bingo, figure skating and hockey. The community Environment and Beautification Committee orchestrates the annual community cleanup. The Bowness community association also hosts a number of special events each year, most notably the annual Bowness Stampede Stomp, which includes a parade and Stampede Breakfast.
Bowness has recently undergone a number of changes. Their new area redevelopment plan (ARP) has led to new flags, cobblestone walks, landscaping and hanging flowers. This sprucing up has attracted a number of new businesses to the area, and the community association is actively involved in continuing this redevelopment, while ensuring that the community retains its distinct flavour.
Greenwood-Greenbriar Community Social Media Updates
Greenwood-Greenbriar Community Elected Officials

Greenwood-Greenbriar is represented in the Calgary City Council by Ward 1 Greenwood-Greenbriar is also a part of the Calgary Bow Provincial Electoral District.
Greenwood-Greenbriar Community Real Estate Statistics
Greenwood-Greenbriar Active Listings
Greenwood-Greenbriar Community Demographics
In the City of Calgary's 2012 municipal census, Greenwood/Greenbriar had a population of 946 living in 501 dwellings, a 1.5% increase from its 2011 population of 932. With a land area of 1.2 km2 (0.46 sq mi), it had a population density of 790/km2 (2,040/sq mi) in 2012.
Residents in this community had a median household income of $32,400 in 2000, and there were 28.5% low income residents living in the neighbourhood. As of 2000, 15.5% of the residents were immigrants. All buildings were single-family detached homes or mobile homes, and 10.9% of the housing was used for renting. For more detailed info visit the 
City of Calgary
 community profiles site.
Greenwood Community Babysitters
This Community Babysitter List is brought to you by
MyBabysitter.ca
Click on the Babysitter's name to view profile & contact information.
Greenwood-Greenbriar Community Map – NorththWest Calgary