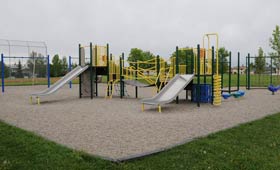 Hawkwood Community Background
Located in northwest Calgary, the community of Hawkwood is bordered by Sarcee Trail in the east, John Laurie Boulevard in the south, Nose Hill Drive in the west and Country Hills Boulevard in the north. The area was named after its original landowners, John and Joseph Hawkwood. It was established in 1981, and offers good views of the Rocky Mountains and the city. There is also ample green space in the area, and it is connected to the city's pathway system. There are both public and separate schools in the area.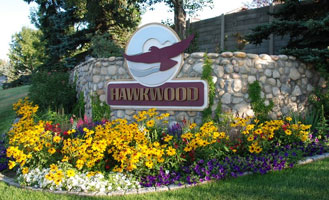 Hawkwood Community Association
Box 62011, RPO Hawkwood NW
Calgary, AB - T3G 5S7
Phone: 403.239.2211
www.hawkwoodca.com
president@

null

hawkwoodcalgary.com
The Hawkwood community association offers a variety of programs for residents, including sports. Although they do not currently have a community centre, there are plans to establish one. Funds for this purpose are being raised through community casinos. The community association facilitates socce3r, baseball, and badminton as well as Boy Scouts and Girl Guides. The association also puts on a number of special events, notably an annual Stampede Breakfast.
Citadel & Hawkwood Community Newsletter
Your Citadel Hawkwood is a free glossy covered community newsletter published monthly (12 times per year), and delivered to every household, apartment and business in Citadel & Hawkwood. Consisting of community news, event notifications, philanthropic initiatives, real estate statistics, and babysitter lists, Your Citadel Hawkwood community newsletter has strong and consistent readership and advertising visibility.


Magazine Style Publications
Glossy Full Color Covers
Circulation: 7,100 Households
12 Publications per Year
Community Calendar
News, Events & Photos
Community Programs
Sports Registrations
Church Announcements
School Announcements
Real Estate Updates
Community Babysitter List
Hawkwood Community Social Media Updates
Hawkwood Community Elected Officials

Hawkwood is represented in the Calgary City Council by Ward 2 Hawkwood is also a part of the Calgary Hawkwood Provincial Electoral District.

Hawkwood is represented in Ottawa by the Member of Parliament for Calgary Rocky Ridge
Hawkwood Community Real Estate Statistics
Hawkwood Active Listings
Hawkwood Community Demographics
In the City of Calgary's 2012 municipal census, Hawkwood had a population of 9,831 living in 3,331 dwellings, a -0.7% increase from its 2011 population of 9,898. With a land area of 3.2 km2 (1.2 sq mi), it had a population density of 3,070/km2 (7,960/sq mi) in 2012.
Residents in this community had a median household income of $96,806 in 2005, and there were 9.1% low income residents living in the neighborhood. As of 2000, 29.6% of the residents were immigrants. A proportion of 4.1% of the buildings were condominiums or apartments, and 5.5% of the housing was used for renting. For more detailed info visit the 
City of Calgary
 community profiles site.
Hawkwood Community Babysitters
This Community Babysitter List is brought to you by
MyBabysitter.ca
Click on the Babysitter's name to view profile & contact information.
Hawkwood Community Map – NorthWest Calgary
Hawkwood Schools
Hawkwood is home to the following schools.
| School | Phone | Address |
| --- | --- | --- |
| Hawkwood School | (403) 777-6410 | 650 Hawkwood Boulevard NW |
| Saint Maria Goretti Elementary School | (403) 500-2099 | 375 Hawkstone Drive NW |
Hawkwood Churches
The following churches are located in Hawkwood.
| Church | Phone | Address |
| --- | --- | --- |
| Hawkwood Baptist Church | (403) 239-6200 | 20 Hawkwood Drive NW |
| Saint Thomas United Church | (403) 241-0366 | 100 Hawkwood Boulevard NW |