Rocky Ridge Community Background
Rocky Ridge is a residential neighbourhood in the north-west quadrant of Calgary, Alberta. It is located at the western edge of the city, and is bounded to the north by Country Hills Boulevard, to the east by Rocky Ridge Road, to the south by Crowchild Trail and to the west by Twelve Mile Coulee Road.At 1,265 meters (4,150 ft), and with elevation reaching 1,275 meters (4,183 ft), Rocky Ridge is the highest geographical feature in Calgary. The land was annexed to the City of Calgary in 1989 (from the Municipal District of Rocky View), and Rocky Ridge was established in 1998. It is represented in the Calgary City Council by the Ward 1 councillor.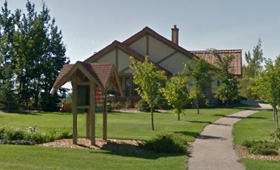 Rocky Ridge Royal Oak Community Association
Box 91009, RPO Royal Oak N.W.
Calgary, AB
T3G 5W6
Phone:403.271.8979
www.rrroca.org
info@

null

rrroca.org
Mission Statement
The Rocky Ridge Royal Oak Community Association is a vital organization that effectively acts upon the common interests and concerns of the community's diverse residents.
Vision Statement
To build a sense of community that encourages involvement between neighborhoods, while preserving the unique nature of each neighborhood.
We the Community Association will strive to develop a community that will be Friendly, Safe and Environmentally Sensitive. We will strive to accomplish our vision by recruiting and working with committed volunteers, assisting and coordinating shared programs and amenities, working towards financial stability and providing effective input to planning and transportation.
Rocky Ridge Royal Oak Community Social Media Updates
Rocky Ridge Community Elected Officials

Rocky Ridge is represented in the Calgary City Council by Ward 1 Rocky Ridge is also a part of the Calgary West Provincial Electoral District.
Rocky Ridge Community Real Estate Statistics
Rocky Ridge Active Listings
Rocky Ridge Community Demographics
In the City of Calgary's 2012 municipal census, Rocky Ridge had a population of 7,662 living in 2,972 dwellings, a 5.5% increase from its 2011 population of 7,266. With a land area of 2.8 km2 (1.1 sq mi), it had a population density of 2,740/km2 (7,090/sq mi) in 2012.
Residents in this community had a median household income of $84,282 in 2000, and there were 4.5% low income residents living in the neighbourhood. As of 2000, 17.3% of the residents were immigrants. All buildings were single-family detached homes, and 9.1% of the housing was used for renting. For more detailed info visit the 
City of Calgary
 community profiles site.
Rocky Ridge Community Babysitters
This Community Babysitter List is brought to you by
MyBabysitter.ca
Click on the Babysitter's name to view profile & contact information.
Rocky Ridge Community Map – Northwest Calgary