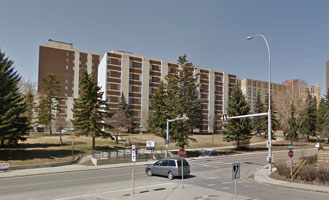 Rosedale Community Background
Rosedale is a residential community centrally located in the city, along the north escarpment of the Bow River Valley. The community has good access to the downtown, via 10th Street N.W. or Centre Street N. Rosedale is also within close proximity to Southern Alberta Institute of Technology, Alberta College of Art, Jubilee Auditorium, as well as the L.R.T. system and the riverside pathway system.
Rosedale Community Association
901-11 Ave NW
Calgary, AB - T2M 0C2
www.myrosedale.info
communications@

null

myrosedale.info
The Rosedale Community Association is a responsive association with a membership that is active, caring and engaged. It is governed by a Board of Directors. Meetings are held the first Tuesday of every month, September to June in the downstairs boardroom. We encourage our community to purchase a membership. Your membership fee supports the community hall, newsletter, programs, social events, and so many other valuable community initiatives that help make Rosedale a special place to live. Memberships are sold door-to-door in October or online. Membership is required to participate in the various community programs – yoga, soccer, tennis, etc.
Rosedale Community Social Media Updates
Rosedale Community Elected Officials

Rosedale is represented in the Calgary City Council by Ward 7 Rosedale is also a part of the Calgary Mountain View Provincial Electoral District.
Rosedale Community Real Estate Statistics
Rosedale Active Listings
Rosedale Community Demographics
In the City of Calgary's 2012 municipal census, Rosedale had a population of 1,569 living in 636 dwellings, a -1.4% increase from its 2011 population of 1,592. With a land area of 0.7 km2 (0.27 sq mi), it had a population density of 2,240/km2 (5,800/sq mi) in 2012.
Residents in this community had a median household income of $78,067 in 2000, and there were 8% low income residents living in the neighbourhood. As of 2000, 14.7% of the residents were immigrants. A proportion of 14.4% of the buildings were condominiums or apartments, and 23.2% of the housing was used for renting. For more detailed info visit the 
City of Calgary
 community profiles site.
Rosedale Community Babysitters
This Community Babysitter List is brought to you by
MyBabysitter.ca
Click on the Babysitter's name to view profile & contact information.
Rosedale Community Map – NorthWest Calgary