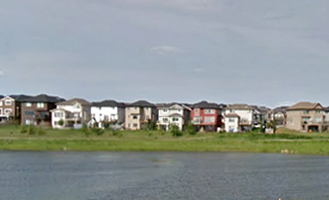 Sage Hill Community Background
Sage Hill is a residential neighbourhood in the northwest quadrant of Calgary, Alberta, Canada. Located near the north edge of the city, it is bounded by the Nolan Hill community across Shaganappi Trail to the west, 144 Avenue N.W. to the north, the Evanston community to the east, and the Kincora community across 128 Avenue N.W. to the south. It is one of five communities located within the Symons Valley area. West Nose Creek flows through the eastern portion of the community.
Sage Hill Community Social Media Updates
Sage Hill Community Elected Officials
Sage Hill is represented in the Calgary City Council by Ward 2
Councillor Joe Magliocca
Ward 2 Office
P.O. Box 2100, Station M
Calgary, AB, CanadaT2P 2M5
Phone:
403-268-2430
Fax:
403-268-3823
Email:
ward02@

null

calgary.ca
Web:
www.calgary.ca/ward2
Sage Hill is also a part of the Calgary Foothills Provincial Electoral District.
MLA Prasad Panda
Calgary-Foothills
217 - 45 Edenwold Drive NW
Calgary, AB Canada T3A 3S8
Phone:
(403) 288-4453
Fax:
(403) 247-9863
Email:
calgary.foothills@

null

assembly.ab.ca
Sage Hill is represented in Ottawa by the Member of Parliament for Calgary Rocky Ridge
MP Pat Kelly
Calgary Rocky Ridge
Suite 202, 400 Crowfoot Crescent NW
Calgary AB T3G 5H6
Phone:
(403) 282-7980
Fax:
(403) 282-3587
Email:
pat.kelly@

null

parl.gc.ca
Social Media
Even the most of the Liberals on FINA are demanding answers from the minister and her officials on the tax increase for type 1 diabetics.
Sage Hill Community Real Estate Statistics
Sage Hill Active Listings
Sage Hill Community Demographics
In the City of Calgary's 2012 municipal census, Sage Hill had a population of 2,189 living in 992 dwellings, a 53.6% increase from its 2011 population of 1,425. With a land area of 3.8 km2 (1.5 sq mi), it had a population density of 576/km2 (1,492/sq mi) in 2012. For more detailed info visit the 
City of Calgary
 community profiles site.
Sage Hill Community Babysitters
This Community Babysitter List is brought to you by
MyBabysitter.ca
Click on the Babysitter's name to view profile & contact information.
| Babysitter Name | Age | Rate | Course |
| --- | --- | --- | --- |
Sage Hill Community Map – Northwest Calgary