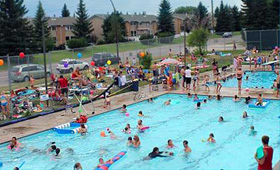 Silver Springs Community Background
Silver Springs is a residential neighbourhood in the north-west quadrant of Calgary, Alberta. It is bounded to the north by Crowchild Trail, to the east by Sarcee Trail, to the south by the Bow River and to the west by Nose Hill Drive. The Silver Springs golf course is developed in the eastern part of the community, and the Bowmont Natural Area borders the community to the south. Silver Springs was developed between 1972 and 1980. It is represented in the Calgary City Council by the Ward 1 councillor.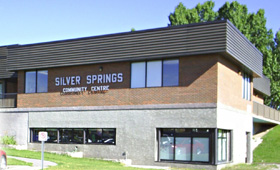 Silver Springs Community Association
5720 Silver Ridge Dr. N.W.
Calgary, AB | T3B 5E5
Phone:403.288.2616
Fax:403.247.0820
www.silverspringscommunity.ca
admin@

null

silverspringscommunity.ca
Silver Springs is a very active community. There is a large sports program, with hundreds signing up for soccer, softball, and baseball. The community centre offers classes in fitness, painting. yoga, meditation, martial arts, and kids dance. The centre also houses a preschool and after school program and is also home to the Plus 55 club, which meets to play cards and for socials. For community recreation, the centre also has two skating rinks, for hockey and pleasure, in addition to outdoor pools. Silver Springs is also effective in representing the community on important issues, such as the maintenance and cleanup of nearby Bowmont Park.
Silver Springs Community Social Media Updates
Silver Springs Community Elected Officials

Silver Springs is represented in the Calgary City Council by Ward 1 Silver Springs is also a part of the Calgary-Bow Provincial Electoral District.

Silver Springs is represented in Ottawa by the Member of Parliament for Calgary Rocky Ridge
Silver Springs Community Real Estate Statistics
Silver Springs Active Listings
Silver Springs Community Demographics
In the City of Calgary's 2012 municipal census, Silver Springs had a population of 8,933 living in 3,533 dwellings, a 0.3% increase from its 2011 population of 8,910. With a land area of 5 km2 (1.9 sq mi), it had a population density of 1,790/km2 (4,600/sq mi) in 2012.
Residents in this community had a median household income of $73,776 in 2000, and there were 5.8% low income residents living in the neighbourhood. As of 2000, 16.7% of the residents were immigrants. A proportion of 9.1% of the buildings were condominiums or apartments, and 15.9% of the housing was used for renting. For more detailed info visit the 
City of Calgary
 community profiles site.
Silver Springs Community Babysitters
This Community Babysitter List is brought to you by
MyBabysitter.ca
Click on the Babysitter's name to view profile & contact information.
Silver Springs Community Map – Northwest Calgary