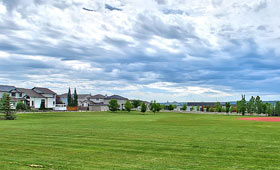 Tuscany Community Background
Tuscany is a residential neighbourhood in the north-west quadrant of Calgary, Alberta. It is located at the western edge of the city, and is bounded to the north by Crowchild Trail, to the east by Stoney Trail, Bearspaw Dam Road to the south and Twelve Mile Coulee Road and the recently annexed community of Lynx Ridge and the rural acreages of Bearspaw to the west. Tuscany was established in 1994 and it was named for the region of Tuscany, Italy.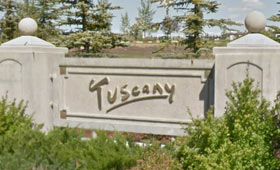 Tuscany Community Association
Box 27030, RPO Tuscany NW
Calgary, AB - T3L 2Y1
www.tuscanyca.wordpress.com
president@

null

tuscanyca.ca
The Tuscany Community Association, formed in April of 2000, is a volunteer-driven body committed to addressing community issues, planning community events and recreation activities, and providing effective representation in civic matters. Membership in the Tuscany Community Association is voluntary and costs $25 per year. A single membership covers a household for participation in TCA activities & entitles one vote at the AGM.
Tuscany Community Newsletter
Your Tuscany is a free glossy covered community newsletter published monthly (12 times per year), and delivered to every household, apartment and business in Tuscany. Consisting of community news, event notifications, philanthropic initiatives, real estate statistics, and babysitter lists, Your Tuscany community newsletter has strong and consistent readership and advertising visibility.


Magazine Style Publications
Glossy Full Color Covers
Circulation: 6,600 Households
12 Publications per Year
Community Calendar
News, Events & Photos
Community Programs
Sports Registrations
Church Announcements
School Announcements
Real Estate Updates
Community Babysitter List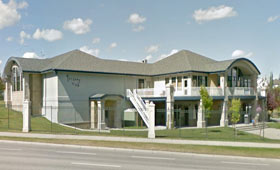 The Tuscany Club
212 Tuscany Way NW
Calgary, AB – T3L 2J6
Tel:403.241.6402
Fax:403.241.6441
tuscanyclub@

null

shaw.ca
www.tuscany-connect.com
The Tuscany Club is an exclusive, multi-purpose recreational facility with a recreation programmer. The Tuscany Club provides Carma's Tuscany residents with four seasons of activities right in their own backyard. The 16,000 square foot recreation facility includes a large gymnasium, two meeting rooms, multi-purpose rooms, kitchen facilities, office facilities and a skate change area.
Tuscany Club Features:
Private Clubhouse
Recreation Programmer
Basketball courts
Wading pool and water park
Tennis courts
Scenic picnic area
Green play areas
Hockey rink and skating pond
Horseshoes
Shuffleboard
Tuscany Community Social Media Updates
Tuscany Community Elected Officials

Tuscany is represented in the Calgary City Council by Ward 1 Tuscany is also a part of the Calgary North West Provincial Electoral District.

Tuscany is represented in Ottawa by the Member of Parliament for Calgary Rocky Ridge
Tuscany Community Real Estate Statistics
Tuscany Active Listings
Tuscany Community Demographics
In the City of Calgary's 2012 municipal census, Tuscany had a population of 19,013 living in 6,492 dwellings, a 0.9% increase from its 2011 population of 18,838. With a land area of 6.9 km2 (2.7 sq mi), it had a population density of 2,756/km2 (7,140/sq mi) in 2012.
Residents in this community had a median household income of $92,453 in 2005, and there were 7.1% low income residents living in the neighborhood. As of 2006, 18.5% of the residents were immigrants. A proportion of 7.6% of the buildings were condominiums or apartments, and 2.7% of the housing was used for renting. For more detailed info visit the 
City of Calgary
 community profiles site.
Tuscany Community Babysitters
This Community Babysitter List is brought to you by
MyBabysitter.ca
Click on the Babysitter's name to view profile & contact information.
Tuscany Community Map – Northwest Calgary