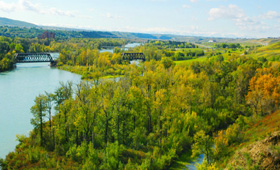 Valley Ridge Community Background
Valley Ridge is located in the northwest sector of Calgary, along the western boundary of Calgary between the TransCanada Highway and the Bow River. The community is home to an 18 hole gold course along the river valley that weaves through portions of the residential community. Varsity offers exceptional views of Bow Valley, Nose Hill Park and the Valley Ridge Golf Course. There is a great deal of open space in the area, as well as a number of natural features. These include ravines, escarpments, and the riverbank. There are currently no schools in the area.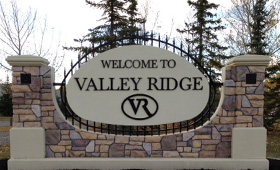 Valley Ridge Community Association
c/o 61 Valley Woods Landing NW
Calgary, AB
T3B 6A3
Phone:403.695.7533
www.vrca.info
president@

null

vrca.info
The Varsity Ridge community association offers a number of programs to residents. These include a walking group, a parents group, a Block Parents chapter and playgroups. The community also hosts special events, such as a summer barbeque, and an annual pathway cleanup. Although the community association does not currently have a community hall, plans are underway to establish one within the next few years. The community association also seeks to monitor community development, advocate for resident's concerns and minimize the problems of graffiti, vandalism and speeding.
Valley Ridge Community Elected Officials
Valley Ridge is represented in the Calgary City Council by Ward 1
Councillor Ward Sutherland
Ward 1 Office
P.O. Box 2100, Station M
Calgary, AB, Canada T2P 2M5
Phone:
403-268-2445
Fax:
403-268-8091
Email:
ward01@

null

calgary.ca
Web:
www.calgary.ca/ward1
Valley Ridge is also a part of the Calgary-Bow Provincial Electoral District.
MLA Deborah Drever
Calgary-Bow
6307 Bowness Rd NW
Calgary, AB Canada T3B 0E4
Phone:
(403) 216-5400
Fax:
(403) 216-5402
Email:
calgary.bow@

null

assembly.ab.ca
Social Media
@monkberrymoons @Dfildebrandt Wear it as a badge of honour. He blocked me when I asked him to not abuse Deborah Drever. He's a delicate little flower..
Valley Ridge Community Real Estate Statistics
Valley Ridge Active Listings
Valley Ridge Community Demographics
In the City of Calgary's 2012 municipal census, Valley Ridge had a population of 5,013 living in 1,768 dwellings, a -0.6% increase from its 2011 population of 5,042. With a land area of 3.3 km2 (1.3 sq mi), it had a population density of 1,519/km2 (3,930/sq mi) in 2012.
Residents in this community had a median household income of $104,947 in 2000, and there were 4.9% low income residents living in the neighbourhood. As of 2000, 14% of the residents were immigrants. Consisting mostly of single-family detached homes, only 1.4% of the housing is used for renting. For more detailed info visit the 
City of Calgary
 community profiles site.
Valley Ridge Community Babysitters
This Community Babysitter List is brought to you by
MyBabysitter.ca
Click on the Babysitter's name to view profile & contact information.
| Babysitter Name | Age | Rate | Course |
| --- | --- | --- | --- |
Valley Ridge Community Map – Northwest Calgary