Abbeydale Community Background
The community of Abbeydale is bordered on the South by the Canadian National Railway, on the West by 68th St. NE and on the North by the Trans Canada Highway. The community was under the jurisdiction of the Municipal District of Rockyview until it was annexed by the city in 1976. The community has a large child and youth population and contains both a public and separate school. The neighbourhood is primarily residential, with its principal commercial attraction being a simple strip mall. Downtown can be accessed by either Memorial Drive or 16th Avenue.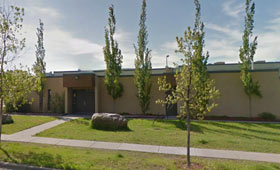 Abbeydale Community Association
821 Abbeydale Dr. NE
Calgary, AB - T2A 6N7
Phone: 403.248.2229
www.abbeydaleca.com
hallmanager@

null

abbeydaleca.com
In response to the community's demographics, the programs offered by Abbeydale's community association are primarily youth oriented. The community center facilitates an out of school care program, numerous sports programs, Jelly Bean Dances and Scouts. They also boast an adult darts league. The centre also offers plenty of events for the entire family, and the centre's pool tables, dart boards and outdoor skating rink provide an excellent opportunity for families to relax in a pleasant atmosphere. Abbeydale offers activities for adults as well, with each Friday being open pub night featuring karaoke, crib tournaments or the occasional lobster dinner. Clearly, Abbeydale seeks to provide programs that match the interests of all of the community's diverse population.
Abbeydale Community Elected Officials
Abbeydale is represented in the Calgary City Council by Ward 10
Councillor Ray Jones
Ward 10 Office
P.O. Box 2100, Station M
Calgary, AB, CanadaT2P 2M5
Phone:
403-268-2430
Fax:
403-268-3823
Email:
ward10@

null

calgary.ca
Web:
www.calgary.ca/ward10
Social Media
@BeesAdventures @StMartha_CCSD Please send me a PM. We can figure out the details! Thanks for reaching out!
Abbeydale is also a part of the Calgary Greenway Provincial Electoral District.
MLA Prab Gill
Calgary-Greenway
754, 2220 - 68 Street NE
Calgary, AB Canada T1Y 6Y7
Phone:
(403) 248-4487
Fax:
(403) 273-2898
Email:
calgary.greenway@

null

assembly.ab.ca
Social Media
Abbeydale Community Real Estate Statistics
Abbeydale Active Listings
Abbeydale Community Demographics
In the City of Calgary's 2012 municipal census, Abbeydale had a population of 5,917 living in 2,023 dwellings, a 3.8% increase from its 2011 population of 5,700. With a land area of 1.7 km2 (0.66 sq mi), it had a population density of 3,480/km2 (9,010/sq mi) in 2012. Residents in this community had a median household income of $55,345 in 2000, and there were 17.3% low income residents living in the neighborhood. As of 2000, 27.1% of the residents were immigrants. A proportion of 2.5% of the buildings were condominiums or apartments, and 22.8% were used for renting. For more detailed info visit the 
City of Calgary
 community profiles site.
Abbeydale Community Babysitters
This Community Babysitter List is brought to you by
MyBabysitter.ca
Click on the Babysitter's name to view profile & contact information.
| Babysitter Name | Age | Rate | Course |
| --- | --- | --- | --- |
Abbeydale Community Map – SouthEast Calgary