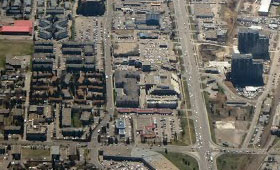 Acadia Community Background
Acadia is a neighbourhood in the southeast quadrant of Calgary, Alberta. The area is bounded on the west by Macleod Trail, on the east by the Bow River, on the north by Heritage Drive and on the south by Southland Drive. The land was annexed to the City of Calgary in 1956, and Acadia was established in 1960. The neighbourhood's main street is Fairmount Drive, and many of the area's businesses cluster along the street. The area also contains Lord Beaverbrook High School, the city's largest high school. The area contains Acadia Elementary, David Thompson Middle School, and St. Matthew School.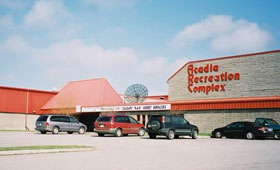 Acadia Community Association
240-90 Ave SE
Calgary, AB T2J 6P6
Phone: 403.255.1252
Fax: 403.252.8593
www.fairviewcommunity.ca
acadiarec@

null

telus.net
A Community Association membership is a great way to support your community. They are inexpensive and voluntary. A valid membership is usually required to participate in recreational, social and educational programs from soccer to girl guides, karate to yoga, stampede breakfasts to senior programs, movie nights and much more! Several Calgary recreation centres will also provide a discount for community association membership holders.
Acadia Community Newsletter
Your Acadia is a free glossy covered community newsletter published monthly (12 times per year), and delivered to every household, apartment and business in Acadia. Consisting of community news, event notifications, philanthropic initiatives, real estate statistics, and babysitter lists, Your Acadia community newsletter has strong and consistent readership and advertising visibility.


Magazine Style Publications
Glossy Full Color Covers
Circulation: 5,200 Households
12 Publications per Year
Community Calendar
News, Events & Photos
Community Programs
Sports Registrations
Church Announcements
School Announcements
Real Estate Updates
Community Babysitter List
Acadia Community Social Media Updates
Acadia Community Elected Officials

Acadia is represented in the Calgary City Council by Ward 9 Acadia is also a part of the Acadia Provincial Electoral District.
Acadia Community Real Estate Statistics
Acadia Active Listings
Acadia Community Demographics
In 2004 the neighbourhood had a population of 10,515. Residents in this community had a median household income of $46,089 in 2000, and there were 19.2% low income residents living in the neighborhood. As of 2000, 19.4% of the residents were immigrants. A proportion of 38.8% of the buildings were condominiums or apartments, and 38.9% were used for renting. For more detailed info visit the 
City of Calgary
 community profiles site.
Acadia, Fairview Community Babysitters
This Community Babysitter List is brought to you by
MyBabysitter.ca
Click on the Babysitter's name to view profile & contact information.
Acadia Community Map – SouthEast Calgary
Acadia Schools
Acadia is home to the following schools.
| School | Phone | Address |
| --- | --- | --- |
| Acadia School | (403) 777-8440 | 9603 - 5 Street SE |
| Andrew Davison Campus | (403) 259-3175 | 8710 Ancourt Rd SE |
| David Thompson Middle School | (403) 777-7470 | 9320 Arbour Cres SE |
| Ecole de la Source | (403) 255-6724 | 360 94 Ave SE |
| Fairview Junior High School | (403) 777-7900 | 7840 Fairmount Drive SE |
| Juno Beach Academy of Canadian Studies | (403) 777-7210 | 315 86 Avenue SE |
| Lord Beaverbrook High School | (403) 259-5585 | 919 Fairmount Drive SE |
| Le Roi Daniels School | (403) 777-6420 | 47 Fyffe Road SE |
| St. Cecilia (Bilingual) Elementary School | (403) 500-2040 | 610 Agate Crescent SE |
Acadia Churches
The following churches are located in Acadia.
| Church | Phone | Address |
| --- | --- | --- |
| Christ Moravian Church | (403) 271-2700 | 600 Acadia Drive S |
| Fairview Baptist Church | (403) 252-1704 | 230 78 Ave SE |
| The Church of Jesus Christ of LDS | (403) 252-1141 | 7040 Farrell Road SE |
| Life of Faith Christian Church | (403) 775 3900 | 7640 Fairmount Drive SE |
| Lighthouse Church | (403) 640-2099 | 9827 Horton Road SE |
| Lutheran Church of Our Saviour | (403) 253-1453 | 8831 Fairmount Drive SE |
| McDougal United Church | (403) 252-1620 | 83 Avenue SE |
| St. Cecilia Roman Catholic Church | (403) 252-2790 | 321 90 Ave SE |