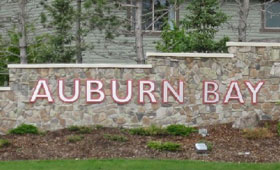 Auburn Bay Community Background
Auburn Bay is a new suburban residential neighbourhood in the south-east quadrant of Calgary, Alberta. It is located at the south-eastern edge of the city, and is bounded by Seton Boulevard to the south, Deerfoot Trail to the west, the yet-to-be-constructed 52 Street E extension to the east and Marquis of Lorne Trail to the north. The South Health Campus & Southeast Calgary hospital is located immediately to the south of the community. A proposed SE extension of the city's C-Train system is planned to run along the community's eastern boundary, parallel to 52nd Street.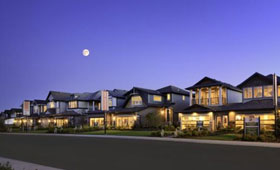 Auburn Bay Community Association
c/o Auburn House, 200 Auburn Bay Blvd. S.E
Calgary, AB T3M 0A4
Phone (403) 390-2554
www.auburnbay-connect.com
auburnbayca@

null

gmail.com
The Auburn Bay Community Association (ABCA) is represented by a volunteer Board of Directors elected annually by it's membership. The Auburn Bay Community Association meets the second Tuesday of each month and everyone is welcome to attend. Please be sure to attend the meetings for updates from our MLA, Alderman and the Calgary Police Service as the discuss issues that affect Auburn Bay and listen to our concerns.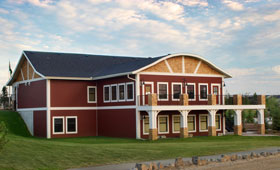 Auburn Bay Residents Association
200 Auburn Bay Boulevard SE
Calgary, Alberta T3M 0A4
Phone (403) 537-2601
admin@nullauburnbay.org
www.auburnbay-connect.com
The Auburn Bay Residents Association (ABRA) is a not-for-profit company that is professionally managed and operated. In addition to the wide variety of recreational and event programming, we are responsible for maintenance of many of the community features, including the entry ways and boulevards, the Auburn House facility as well as the lake and park amenities.Membership in the Residents Association is mandatory for residents and fees are collected annually in April.
Auburn Bay Community Newsletter
Your Auburn Bay Seton is a free glossy covered community newsletter published monthly (12 times per year), and delivered to every household, apartment and business in Auburn Bay. Consisting of community news, event notifications, philanthropic initiatives, real estate statistics, and babysitter lists, Your Auburn Bay Seton community newsletter has strong and consistent readership and advertising visibility.


Magazine Style Publications
Glossy Full Color Covers
Circulation: 5,300 Households
12 Publications per Year
Community Calendar
News, Events & Photos
Community Programs
Sports Registrations
Church Announcements
School Announcements
Real Estate Updates
Community Babysitter List
Auburn Bay Community Social Media Updates
Auburn Bay Community Elected Officials
Auburn Bay is represented in the Calgary City Council by Ward 12
Councillor Shane Keating
Ward 12 Office
P.O. Box 2100, Station M
Calgary, AB, CanadaT2P 2M5
Phone:
403-268-2478
Fax:
403-268-8091
Email:
ward12@

null

calgary.ca
Web:
www.calgary.ca/ward12
Auburn Bay is also a part of the Calgary South East Provincial Electoral District.
MLA Rick Fraser
Calgary-South East
Unit 202, 5126 - 126 Avenue SE
Calgary, AB Canada T2Z 0H2
Phone:
(403) 215-8930
Fax:
(403) 215-8932
Email:
calgary.southeast@

null

assembly.ab.ca
Social Media
Last night I voted in favour of Bill 30, protecting paramedics that suffer a heart attack within 24 hours after their shift under WCB. #ableg #ems
Auburn Bay Community Real Estate Statistics
Auburn Bay Active Listings
Auburn Bay Community Demographics
In the City of Calgary's 2012 municipal census, Auburn Bay had a population of 7,193 living in 2,808 dwellings, a 24.7% increase from its 2011 population of 5,769. With a land area of 4.5 km2 (1.7 sq mi), it had a population density of 1,598/km2 (4,140/sq mi) in 2012. For more detailed info visit the 
City of Calgary
 community profiles site.
Auburn Bay Community Babysitters
This Community Babysitter List is brought to you by
MyBabysitter.ca
Click on the Babysitter's name to view profile & contact information.
| Babysitter Name | Age | Rate | Course |
| --- | --- | --- | --- |
Auburn Bay Community Map – SouthEast Calgary

[flexiblemap src="http://great-news.ca/Communities/Calgary/SE/Auburn_Bay/Community.kml" width="95%" height="580″ zoom="14″ kmlcache="8 hours"]
We strive to connect community associations, community members, and local businesses with insightful newsletters. If you are interested in having your community newsletter published by Great News Publishing, or want to advertise please feel free to
contact us.
Contact Us
Menu
Social Media