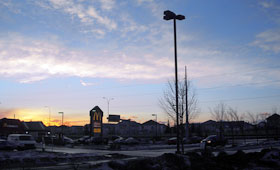 DouglasdaleGlen Community Background
DouglasdaleGlen is located in Calgary's southeast. It encompasses the land along the east side of the Bow River between Deerfoot Trail and the community of McKenzie. The community was designed to make use of many of the area's natural topographic features, including the Bow River escarpment. This has allowed for spectacular views of the river valley and the Rocky Mountains.
Area residents enjoy recreational opportunities in nearby Fish Creek Provincial Park, as well as at the local golf course. There is also a lot of green space throughout Douglasdale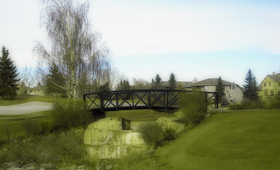 DouglasdaleGlen Community Association
PO Box 87031
#160, 11520 – 24th Street SE
Phone: 403-720-0668
www.dgca.ca
info@

null

dgca.ca
Although the DouglasdaleGlen community association currently lacks a community centre, it remains active within the community. It facilitates local sports programs, the most popular of which is soccer. There is also a local traffic committee to help study plans for the Glenmore Trail and Deerfoot Trail. Douglasdale also offers a teen program at Monsignor Smith School, where area teens can meet weekly for games of pick up basketball.
DouglasdaleGlen Community Newsletter
Your DouglasdaleGlen is a free glossy covered community newsletter published monthly (12 times per year), and delivered to every household, apartment and business in DouglasdaleGlen. Consisting of community news, event notifications, philanthropic initiatives, real estate statistics, and babysitter lists, Your DouglasdaleGlen community newsletter has strong and consistent readership and advertising visibility.


Magazine Style Publications
Glossy Full Color Covers
Circulation: 4,200 Households
12 Publications per Year
Community Calendar
News, Events & Photos
Community Programs
Sports Registrations
Church Announcements
School Announcements
Real Estate Updates
Community Babysitter List
DouglasdaleGlen Community Elected Officials

DouglasdaleGlen is represented in the Calgary City Council by Ward 12 DouglasdaleGlen is also a part of the Hays Provincial Electoral District.

Douglasdale/Glen is represented in Ottawa by the Member of Parliament for Calgary Shepard
Douglasdale/Glen Community Real Estate Statistics
Douglasdale/Glen Active Listings
DouglasdaleGlen Community Demographics
In the City of Calgary's 2012 municipal census, Douglasdale & Douglas Glen had a population of 16,102 living in 6,783 dwellings, a 4.6% increase from its 2011 population of 15,395.With a land area of 4.8 km
2
(1.9 sq mi), it had a population density of 3,350/km
2
(8,690/sq mi) in 2012.
Residents in this community had a median household income of $75,325 in 2000, and there were 4.6% low income residents living in the neighborhood.As of 2000, 11.9% of the residents were immigrants. A proportion of 8.9% of the buildings were condominiums or apartments, and 4% of the housing was used for renting. For more detailed info visit the City of Calgary community profiles site.
Douglasdale – Glen Community Babysitters
This Community Babysitter List is brought to you by
MyBabysitter.ca
Click on the Babysitter's name to view profile & contact information.
DouglasdaleGlen Community Map – SouthEast Calgary
DouglasdaleGlen Schools
DouglasdaleGlen is home to the following schools.
| School | Phone | Address |
| --- | --- | --- |
| Douglasdale School | 403 777 6177 | 400 Douglas Park Blvd SE |
| Monsignor J. S. Smith School | 403 500 2069 | 2919 Douglasdale Boulevar, SE |
DouglasdaleGlen Churches
The following churches are located in DouglasdaleGlen.
| Church | Phone | Address |
| --- | --- | --- |
| First Alliance Church | 403 252 7572 | 12345 40 St SE |
| River Christian Fellowship | 403-236-5433 | 80 Douglas Close PK SE |