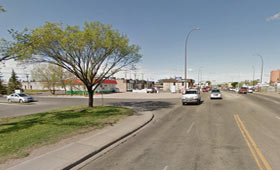 Forest Lawn Community Background
Forest Lawn is a neighbourhood and former town in the southeast quadrant of the City of Calgary, Alberta, Canada. The neighbourhood is bound by 26 Avenue SE to the south, 36 Street SE to the west, 8 Avenue SE to the north and portions of 52 Street SE and 48 Street SE to the east. The former town comprises the entire current Forest Lawn neighbourhood as well as portions of Southview and Albert Park/Radisson Heights to the west, and portions of Penbrooke Meadows and Forest Lawn Industrial to the east. Both the neighbourhood and the former town are bisected by the multicultural International Avenue (17 Avenue SE). Forest Lawn has an area redevelopment plan in place.
Forest Lawn Community Association
4020-26 Ave. SE
Calgary, AB | T2B 0C9
403-272-3150
twitter.com/FLCAYYC
FLCAYYC@

null

gmail.com
The Forest Lawn community association is a popular meeting place, and hosting a dart league 4 days a week. The popular Torch Lounge is open everyday except Thursday and Sunday, and offers pool, a golf game, darts and shuffleboard. The community association also hosts special events, such as an annual Stampede breakfast that offers free food, entertainment, a jumping tent for children, beer gardens and a softball tournament.
Forest Lawn Community Social Media Updates
Forest Lawn Community Elected Officials

Forest Lawn is represented in the Calgary City Council by Ward 10 Forest Lawn is also a part of the Calgary East Provincial Electoral District.
Forest Lawn Community Real Estate Statistics
Forest Lawn Active Listings
Forest Lawn Community Demographics
In the City of Calgary's 2012 municipal census, Forest Lawn had a population of 7,487 living in 3,352 dwellings, a 2.4% increase from its 2011 population of 7,313. With a land area of 2.3 km2 (0.89 sq mi), it had a population density of 3,260/km2 (8,430/sq mi) in 2012. Also in the 2012 municipal census, Forest Heights had a population of 6,212 living in 2,221 dwellings, a 0.4% increase from its 2011 population of 6,185. With a land area of 1.5 km2 (0.58 sq mi), it had a population density of 4,140/km2 (10,700/sq mi) in 2012.
Residents in this community had a median household income of $40,396 in 2000, and there were 27.5% low income residents living in the neighbourhood. As of 2000, 18.6% of the residents were immigrants. A proportion of 29.4% of the buildings were condominiums or apartments, and 57.7% of the housing was used for renting. For more detailed info visit the 
City of Calgary
 community profiles site.
Forest Lawn Community Babysitters
This Community Babysitter List is brought to you by
MyBabysitter.ca
Click on the Babysitter's name to view profile & contact information.
Forest Lawn Community Map – SouthEast Calgary