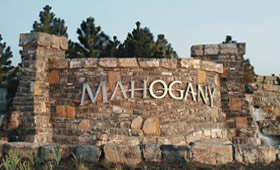 Mahogany Community Background
Mahogany is a new suburban neighbourhood in Calgary, Alberta that was approved by that city's council for development beginning in 2007. The community will be bordered by a future extension of 52nd St. S.E. to the west, along with the community of Auburn Bay, Marquis of Lorne Trail to the north, the proposed East Freeway to the east, and an eastern extension of Seton Boulevard (dubbed 196 Ave. S.E. to the south.
Mahogany is being developed by Hopewell Residential Communities of Calgary. The chosen builders within Mahogany include: Jayman, Sabal, Stepper Custom Homes and Trico Homes. Calbridge, Baywest and Morrison Homes started building in Mahogany at the end of 2010. The Mahogany Sales Centre and Show Home Parade officially opened on Saturday September 13th, 2008. According to page 22 of the city's Mahogany Community Plan, efforts are to be made to preserve an historic ranch located within the future community. A core commercial hub will abut 52 Street on the west side, and a future southeast line of the city's C-Train system is expected to run parallel 52nd Street, servicing Mahogany as well. The community will be constructed northeast of Seton, a commercial-residential-service hub that will include the city's new South Health Campus.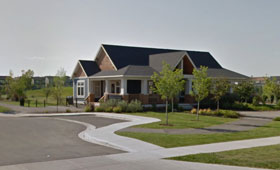 Mahogany Community Association
6 Copperstone Way SE
Calgary, AB T2Z 0E7
Phone:(403) 532-8864
Fax:(403) 532-8874
www.mdlca.ca
info@

null

mdlca.ca
MDLCA represents the residents of the South East Calgary Communities of Copperfield and Mahogany.
The Marquis De Lorne Community Association is dedicated to creating a vibrant and healthy community through enhanced participation of neighbors involved in a shared vision. Join the Marquis De Lorne Community Association! Memberships Are Valid from June 1st to May 31st and expire yearly
Mahogany Community Newsletter
Mahogany Messenger is a free glossy covered community newsletter published monthly (12 times per year), and delivered to every household, apartment and business in Mahogany. Consisting of community news, event notifications, philanthropic initiatives, real estate statistics, and babysitter lists, Mahogany Messenger community newsletter has strong and consistent readership and advertising visibility.


Magazine Style Publications
Glossy Full Color Covers
Circulation: 2,600 Households
12 Publications per Year
Community Calendar
News, Events & Photos
Community Programs
Sports Registrations
Church Announcements
School Announcements
Real Estate Updates
Community Babysitter List
Mahogany Community Social Media Updates
Mahogany Community Elected Officials

Mahogany is represented in the Calgary City Council by Ward 12 Mahogany is also a part of the SouthEast Provincial Electoral District.
Mahogany Community Real Estate Statistics
Mahogany Active Listings
Mahogany Community Demographics
In the City of Calgary's 2012 municipal census, Mahogany had a population of 1,266 living in 572 dwellings, a 60.7% increase from its 2011 population of 788. With a land area of 6.4 km2 (2.5 sq mi), it had a population density of 197.8/km2 (512/sq mi) in 2012. For more detailed info visit the 
City of Calgary
 community profiles site.
Mahogany Community Babysitters
This Community Babysitter List is brought to you by
MyBabysitter.ca
Click on the Babysitter's name to view profile & contact information.
Mahogany Community Map – SouthEast Calgary