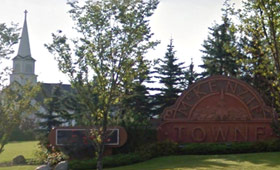 Mckenzie Towne Community Background
The McKenzie Towne community is located in Calgary's southeast. It is on the east side of the Bow River, North of the Marquis of Lorne Trail and East of Fish Creek Provincial Park.
The area is named after J. McKenzie, one of the area's first settlers. He arrived in McKenzie Towne from Montreal in 1882. With the arrival of the Canadian Pacific Railway in 1884, and the Calgary Macleod Railroad in the early 1890s many more people arrived from the east to settle in the area. Situated on good farmland, with easy road access to the city of Calgary, the McKenzie Towne area quickly became a prosperous farming region. The region was annexed by the City of Calgary in 1970. Residential development began in 1982. Today, McKenzie Towne is conveniently located near major roadways (the Deerfoot and Marquis of Lorne Trail). Several golf courses, Fish Creek Park and the popular McKenzie Towne are also in the area. The community offers excellent view of both the city and the mountains.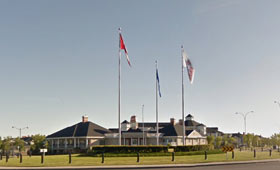 Mckenzie Towne Community Association
40 Mckenzie Towne Blvd S.E.
Calgary, AB T2Z 4X5
www.mckenzietowneca.com
feedback@

null

mckenzietowneca.com
Community Association is a neighbourhood-based volunteer organization, that provides a voice for community life, an overall sense of belonging, and social, educational and recreational opportunities for their residents.
Mckenzie Towne Community Newsletter
McKenzie Towne Council is entrusted by its members to be stewards of the community's physical amenities and provide opportunities for a positive community experience. McKenzie Towne Council owns, maintains and manages common amenities and features in the community. We are a not-for-profit organization that sets a desired course for the McKenzie Towne Hall and other shared amenities, to ensure their long-term stability. This assures that McKenzie Towne residents will continue to enjoy superior and unique amenities.
This 1,300 acre community was developed in 1995 with a different concept from other communities in mind. Most of the amenities owned by the Council were strategically placed throughout the community by the developer.
Is the Community Association the same as McKenzie Towne Council?
No, the Community Association is a volunteer organization dependent upon sponsorship and fundraising to operate. The Council is a not-for-profit company. The McKenzie Towne Council is incorporated under the Companies Act, with mandatory maintenance fees of all property owners and an assured source of revenue to fund its operations. The Community Association is involved in community matters (Soccer Registration and other community run programs, issues involving city officials, etc.), whereas the Council's mandate revolves around providing the necessary resources to maintain McKenzie Towne's amenities.
We strive to connect community associations, community members, and local businesses with insightful newsletters. If you are interested in having your community newsletter published by Great News Publishing, or want to advertise please feel free to
contact us.
Contact Us
Menu
Social Media