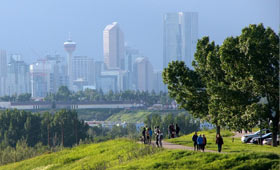 Ogden Community Background
Millican-Ogden is one of the oldest communities in Calgary. It is named after the Millican family, homesteaders who settled in the area in the early 1900s, and I.G. Ogden, the former Vice-president of the Canadian Pacific Railway. With the construction of the Ogden Shops in 1912-1913 the area gained the distinction of being the only CPR repair shop between Winnipeg and Vancouver. Millican-Ogden is located in the SE, and, due to its long history, is home to several vintage homes including the historic Ogden Hotel. The area also contains numerous restaurants and strip malls. In addition, there is plenty of open space in the area, particularly in the Bow River Valley, as well as numerous parks. The community's outdoor pool and the Jack Setter's Arena offer recreation opportunities to residents. There are also both public and separate schools in the area.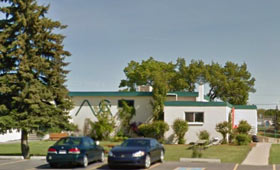 Millican Ogden Community Association
6901-20A St. SE
Calgary, AB - T2C 0R5
Phone: 403.279.3973
Fax: 403.279.256.3736
www.millicanogdencommunity.com
mocaxprs@

null

shaw.ca
The Community Association is made up of dedicated volunteers committed to ensuring a high quality of life in and around Millican Ogden. You can check the website regularly to keep tabs on the news and events that might affect you. Millican Ogden Community Association maintains a diverse mandate. We comment on all building development applications, run sports and recreation programs, publish a newsletter and website, and still find the time to run an expanding list of social events. Each year, our voice grows, and so to does our voice in civic affairs. As with any community association in Calgary, we rely on new volunteers to help us grow and succeed. There is no better way for us to represent the community than to have the community working with us.
Ogden Community Elected Officials

Ogden is represented in the Calgary City Council by Ward 9 Ogden is also a part of the Calgary Fort Provincial Electoral District.
Ogden Community Real Estate Statistics
Ogden Active Listings
Ogden Community Demographics
In the City of Calgary's 2012 municipal census, Ogden had a population of 8,702 living in 3,879 dwellings, a 3.2% increase from its 2011 population of 8,432. With a land area of 4.1 km2 (1.6 sq mi), it had a population density of 2,122/km2 (5,500/sq mi) in 2012.
Residents in this community had a median household income of $47,500 in 2000, and there were 18.1% low income residents living in the neighborhood. As of 2000, 14.6% of the residents were immigrants. A proportion of 19.9% of the buildings were condominiums or apartments, and 33.3% of the housing was used for renting. For more detailed info visit the 
City of Calgary
 community profiles site.
Ogden Community Babysitters
This Community Babysitter List is brought to you by
MyBabysitter.ca
Click on the Babysitter's name to view profile & contact information.
Ogden Community Map – Calgary
Ogden Schools
Ogden is home to the following schools.
| School | Phone | Address |
| --- | --- | --- |
| Saint Bernadette School | (403) 500-2020 | 55 Lynndale Cres SE |
| Sherwood School | (403) 777-7590 | 2011 - 66 Avenue SE |
Ogden Churches
The following churches are located in Ogden.
| Church | Phone | Address |
| --- | --- | --- |
| New Life Community Church | (403) 279-3663 | 7642 22 St SE |
| Ogden United Church | (403) 279-4824 | 7401 23 St SE |
| St. Augustine's Church | (403) 279-3105 | 7602 22A St SE |