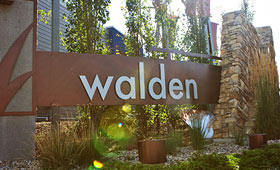 Walden Community Background
Walden is a residential neighbourhood in the south-east quadrant of Calgary, Alberta. It is located near the southern edge of the city, south of 194 Avenue S.E. and the community of Chaparral. To the east it is bordered by the Bow River Valley, to the south by the community of Legacy, and to the west by Macleod Trail.
The community covers 620 acres (2.5 km2), and is named after Walden, a book by Henry David Thoreau. When completed, Walden will consist of three villages, a 160-acre (0.65 km2) park system, and a nine-hole golf course.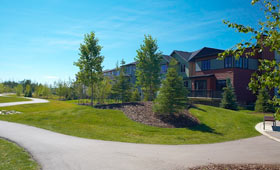 Walden Community Association
#300, 151 Walden Gate SE,
Calgary T2X-0R2 (Inside ATB)
info@

null

waldenyyc.ca
www.waldenyyc.ca
Tranquil parks and open spaces. A ribbon pathway framed by stands of preserved trees. Traffic-calming devices that promote walking and biking. A naturalized wetland and clear-water pond. These are just a few of the features through which Walden holds tight to its natural legacy.
Blossoming amid the pristine setting is an energetic, amenity-rich village centre designed to enrich your urban lifestyle with retail conveniences and recreational delights. The amenities of neighbouring Lake Chaparral and Shawnessy Town Centre further enhance Walden's emphasis on effortless living.
Whether the home you're seeking is larger, smaller or your very first, the Walden philosophy is all about choice. You'll find condominiums, townhomes, semi-detached and single-family, all united by distinctively original fusion architecture that coexists peacefully within the community's natural setting.
Walden Community Newsletter
Your Walden is the official Walden Community Association Newsletter. Your Walden is a free glossy covered magazine style newsletter published monthly (12 times per year), and delivered to every household, apartment and business in Walden. Consisting of community news, event notifications, philanthropic initiatives, real estate statistics, and babysitter lists, Your Walden community newsletter has strong and consistent readership and advertising visibility.


Magazine Style Publications
Glossy Full Color Covers
Circulation: 1,300 Households
12 Publications per Year
Community Calendar
News, Events & Photos
Community Programs
Sports Registrations
Church Announcements
School Announcements
Real Estate Updates
Community Babysitter List
Walden Community Elected Officials

Walden is represented in the Calgary City Council by Ward 14 Walden is also a part of the Calgary South East Provincial Electoral District.
Walden Community Real Estate Statistics
Walden Active Listings
Walden Community Demographics
In the City of Calgary's 2012 municipal census, Walden had a population of 935 living in 450 dwellings, a 57.4% increase from its 2011 population of 594.With a land area of 2.4 km2 (0.93 sq mi), it had a population density of 390/km2 (1,009/sq mi) in 2012. For more detailed info visit the 
City of Calgary
 community profiles site.
Walden Community Babysitters
This Community Babysitter List is brought to you by
MyBabysitter.ca
Click on the Babysitter's name to view profile & contact information.
Walden Community Map – SouthEast Calgary