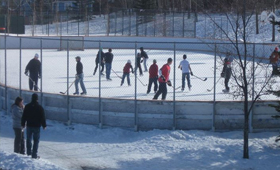 Aspen Woods Community Background
Aspen Woods is a residential neighborhood in the south-west quadrant of Calgary, Alberta, consisting mostly of acreages and single-family detached homes.
Aspen Woods was established as a neighbourhood in 2001, on land annexed to the City of Calgary in 1956.
Aspen Woods Community Association
277 Strathcona Drive SW
Calgary, Alberta, T3H 2A4
Phone: (403) 249-1138
Fax: (403) 249-7811
www.scacalgary.ca
info@scacalgary.ca
Strathcona Park, Christie Park and Aspen Woods are located on the western side of Calgary in the city's SW quadrant. The community names are often referred to as simply Strathcona, Christie and Aspen. The area was annexed from Municipal District of Rockyview in 1956. Strathcona and Christie were developed in the 1980's; they are located on an elevated plateau that allows for excellent eastward views of Calgary and the Elbow and Bow River Valleys. An extension to Strathcona, called Springhaven, was developed in the late 1990's. Development began in Aspen in 2001, which extends westward beyond Strathcona & Christie, enjoying occasional mountain views. All three neighbourhoods are close to Edworthy Park, Glendale Athletic Park, and the Westside Recreation Center. There are both public and Separate schools in the area.
The SCA Community Association is very active within the community. The SCA community centre houses the Child's Garden Preschool and a variety of activities for children, adults and Seniors including martial arts, scouts, dance, bridge, art, fitness classes and more. Community recreation facilities such as the tennis courts, hockey rink, skating pond, and soccer fields are also popular.
Aspen Woods, Springbank Hill and Wentworth Community Newsletter
Your Aspen Spring is a free glossy covered community newsletter published monthly (12 times per year), and delivered to every household, apartment and business in Aspen Woods, Springbank Hill and Wentworth. Consisting of community news, event notifications, philanthropic initiatives, real estate statistics, and babysitter lists, Your Aspen Spring community newsletter has strong and consistent readership and advertising visibility.


Magazine Style Publications
Glossy Full Color Covers
Circulation: 13,500 Households
12 Publications per Year
Community Calendar
News, Events & Photos
Community Programs
Sports Registrations
Church Announcements
School Announcements
Real Estate Updates
Community Babysitter List
Aspen Woods Community Social Media Updates
Aspen Woods Community Elected Officials
Aspen Woods is represented in the Calgary City Council by Ward 6
Councillor Richard Pootmans
Ward 6 Office
P.O. Box 2100, Station M
Calgary, AB, CanadaT2P 2M5
Phone:
403-268-2430
Fax:
403-268-3823
Email:
ward06@calgary.ca
Web:
www.calgary.ca/ward6
Social Media
This is for construction of the 'haul road' for dump trucks moving gravel from the pit in West Springs to the SWRR construction sites twitter.com/YYCWard6/statu…
Aspen Woods is also a part of the West Provincial Electoral District.
MLA Mike Ellis
Calgary-West
Unit 234, 333 Aspen Glen Landing SW
Calgary, AB Canada T3H 0N6
Phone:
(403) 216-5439
Fax:
(403) 216-5441
Email:
calgary.west@assembly.ab.ca
Social Media
Problem retrieving data from Twitter
Aspen Woods Community Real Estate Statistics
Aspen Woods Active Listings
Aspen Woods Community Demographics
In 2006 the neighbourhood had a population of 898. Residents in this community had a median household income of $133,939 in 2000, and there were no low income residents living in the neighborhood. As of 2000, 11.5% of the residents were immigrants. 12.5% of the housing was uesd for renting. For more detailed info visit the 
City of Calgary
 community profiles site.
Aspen Woods Community Babysitters
This Community Babysitter List is brought to you by
MyBabysitter.ca
Click on the Babysitter's name to view profile & contact information.
| Babysitter Name | Age | Rate | Course |
| --- | --- | --- | --- |
Aspen Woods Community Map – SouthWest Calgary
Aspen Woods Schools
Aspen Woods is home to the following schools.
| School | Phone | Address |
| --- | --- | --- |
| Webber Academy | (403) 277-4700 | 1515 93rd Street, SW |
| Calgary Academy | (403) 686-6444 | 1677 93 Street SW |
Aspen Woods Churches
The following churches are located in Aspen Woods.
| Church | Phone | Address |
| --- | --- | --- |
| First Lutheran Church | (403) 242-4544 | 7102 14 Avenue SW |
| Strathcona Christian Fellowship | (403) 240-1018 | 1411 69 Street SW |
We strive to connect community associations, community members, and local businesses with insightful newsletters. If you are interested in having your community newsletter published by Great News Publishing, or want to advertise please feel free to
contact us.
Contact Us
Menu
Social Media