Cougar Ridge Community Background
Cougar Ridge is a residential neighbourhood in the south-west quadrant of Calgary, Alberta. It is located at the western edge of the city and is bounded by Paskapoo Slopes and Canada Olympic Park to the north, 69 Street W to the east, 101 Street W to the west and Old Banff Coach Road to the south.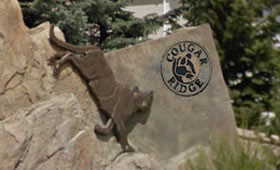 Cougar Ridge Community Association
Suite 138, Unit 406, 917-85 St. SW
Calgary, AB - T3H 5Z9
Phone: 403.770.8585
www.wscr.ca
communications@

null

wscr.ca
The West Springs Cougar Ridge Community Association serves an everincreasing population, representing one of the fastest growing communities in Canada with a rich mix of cultural diversity, abundant natural parks and green space, recreation facilities, and shopping and services of all kinds at our Community Core.
The Association is a not-for-profit body that has proudly served the residents of our community for the past 10 years and is run by a group of dedicated volunteers. The scope of our work revolves around many issues in our community including development, transportation, parks and green space planning, plus recreational and educational programs for all ages.
Cougar Ridge Community Newsletter
Your Aspen Springs is a free glossy covered community newsletter published monthly (12 times per year), and delivered to every household, apartment and business in Cougar Ridge. Consisting of community news, event notifications, philanthropic initiatives, real estate statistics, and babysitter lists, Your Aspen Springs community newsletter has strong and consistent readership and advertising visibility.


Magazine Style Publications
Glossy Full Color Covers
Circulation: 13,500 Households
12 Publications per Year
Community Calendar
News, Events & Photos
Community Programs
Sports Registrations
Church Announcements
School Announcements
Real Estate Updates
Community Babysitter List
Cougar Ridge Community Social Media Updates
Cougar Ridge Community Elected Officials
Cougar Ridge is represented in the Calgary City Council by Ward 6
Councillor Jeff Davison
Ward 6 Office
P.O. Box 2100, Station M
Calgary, AB, CanadaT2P 2M5
Phone:
403-268-1646
Fax:
403-268-3823
Email:
ward06@

null

calgary.ca
Web:
www.calgary.ca/ward6
Cougar Ridge is also a part of the Calgary Bow Provincial Electoral District.
MLA Deborah Drever
Calgary-Bow
6307 Bowness Rd NW
Calgary, AB Canada T3B 0E4
Phone:
(403) 216-5400
Fax:
(403) 216-5402
Email:
calgary.bow@

null

assembly.ab.ca
Social Media
@monkberrymoons @Dfildebrandt Wear it as a badge of honour. He blocked me when I asked him to not abuse Deborah Drever. He's a delicate little flower..
Cougar Ridge Community Real Estate Statistics
Cougar Ridge Active Listings
Cougar Ridge Community Demographics
In the City of Calgary's 2012 municipal census, Cougar Ridge had a population of 5,874 living in 1,908 dwellings, a 1% increase from its 2011 population of 5,813. With a land area of 2.2 km2 (0.85 sq mi), it had a population density of 2,670/km2 (6,920/sq mi) in 2012. For more detailed info visit the 
City of Calgary
 community profiles site.
Cougar Ridge Community Babysitters
This Community Babysitter List is brought to you by
MyBabysitter.ca
Click on the Babysitter's name to view profile & contact information.
| Babysitter Name | Age | Rate | Course |
| --- | --- | --- | --- |
Cougar Ridge Community Map – SouthWest Calgary
We strive to connect community associations, community members, and local businesses with insightful newsletters. If you are interested in having your community newsletter published by Great News Publishing, or want to advertise please feel free to
contact us.
Contact Us
Menu
Social Media