Discovery Ridge Community Background
Discovery Ridge is a residential neighbourhood in the south-west quadrant of Calgary, Alberta. It is located at the western edge of the city and is bounded by Glenmore Trail to the north, 69 Street W to the east, Rocky View County and the city limits to the west and the Elbow River and Tsuu T'ina first nation reserve to the south.
Long before development, this area was referred to by long time Calgarians as Jackson's Valley, an isolated valley beside the Sarcee Military Reserve. When development first began in the late 1990s, the community was known as New Discovery and it was originally planned as a gated community, but this idea was later dropped and today, Discovery Ridge can be accessed by the public. Discovery Ridge was a project dreamed up by developer Mac Radford in the early 1990s and later sold.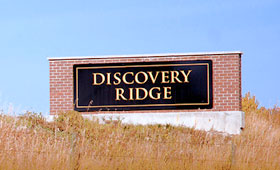 Discovery Ridge Community Association
PO Box 75023, Westhills RPO,
Calgary, AB T3H 3M1
Phone: (587) 287-7506
www.discoveryridge.com
support@

null

discoveryridge.com
The DRCA is responsible for planning sports facilities, developing communication tools such as the DRCA Newsletter, taking care of the daily finances of the DRCA and bringing the community together through social events. The Board is made up of volunteer members of our community, and DRCA activities are funded by donation and memberships.
Discovery Ridge Community Newsletter
Your Discovery Ridge is a free glossy covered community newsletter published monthly (12 times per year), and delivered to every household, apartment and business in Discovery Ridge. Consisting of community news, event notifications, philanthropic initiatives, real estate statistics, and babysitter lists, Your Discovery Ridge community newsletter has strong and consistent readership and advertising visibility.


Magazine Style Publications
Glossy Full Color Covers
Circulation: 2,300 Households
12 Publications per Year
Community Calendar
News, Events & Photos
Community Programs
Sports Registrations
Church Announcements
School Announcements
Real Estate Updates
Community Babysitter List
Discovery Ridge Community Social Media Updates
Discovery Ridge Community Elected Officials
Discovery Ridge is represented in the Calgary City Council by Ward 6
Councillor Jeff Davison
Ward 6 Office
P.O. Box 2100, Station M
Calgary, AB, CanadaT2P 2M5
Phone:
403-268-1646
Fax:
403-268-3823
Email:
ward06@

null

calgary.ca
Web:
www.calgary.ca/ward6
Discovery Ridge is also a part of the Calgary West Provincial Electoral District.
MLA Mike Ellis
Calgary-West
Unit 234, 333 Aspen Glen Landing SW
Calgary, AB Canada T3H 0N6
Phone:
(403) 216-5439
Fax:
(403) 216-5441
Email:
calgary.west@

null

assembly.ab.ca
Social Media
Problem retrieving data from Twitter
Discovery Ridge Community Real Estate Statistics
Discovery Ridge Active Listings
Discovery Ridge Community Demographics
In the City of Calgary's 2012 municipal census, Discovery Ridge had a population of 4,350 living in 1,649 dwellings, a 0.7% increase from its 2011 population of 4,321. With a land area of 3.6 km2 (1.4 sq mi), it had a population density of 1,208/km2 (3,130/sq mi) in 2012.
Residents in this community had a median household income of $128,844 in 2000, and there were no low income residents living in the neighborhood. As of 2000, 32.3% of the residents were immigrants. Most buildings were single-family detached homes and estate homes and none of the housing was used for renting. For more detailed info visit the 
City of Calgary
 community profiles site.
Discovery Ridge Community Babysitters
This Community Babysitter List is brought to you by
MyBabysitter.ca
Click on the Babysitter's name to view profile & contact information.
| Babysitter Name | Age | Rate | Course |
| --- | --- | --- | --- |
Discovery Ridge Community Map – SouthWest Calgary
We strive to connect community associations, community members, and local businesses with insightful newsletters. If you are interested in having your community newsletter published by Great News Publishing, or want to advertise please feel free to
contact us.
Contact Us
Menu
Social Media