Eau Claire Community Background
The neighbourhood of Eau Claire in Calgary, Alberta, Canada is located immediately north of Downtown, and south of the Bow River and north of 4th Avenue. A mix of riverside condominiums, shopping, restaurants, hotels, a large public plaza and urban parkland make Eau Claire one of Calgary's most popular areas. Contained within Eau Claire is the city's Festival District.
The area, which was developed from reclaimed industrial land, fronts the Bow River and sits immediately north of 3rd Avenue South. North of Eau Claire is Prince's Island Park, a large urban park on an island in the Bow River and the site of many summer festivals, including the Calgary Folk Music Festival, Carifest, Shakespeare in the Park and various busking happenings. Within Eau Claire is Eau Claire Market and a variety of pubs and restaurants. It is also located on the city's large network of pedestrian pathways and trails, along the Bow River pathway.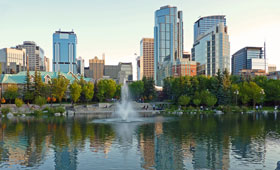 Eau Claire Community Association
c/o Calgary YMCA, 101-3 St. SW
Calgary, AB T2P 4G6
Phone: 403.269.9896
www.eauclaireca.com
info@

null

eauclaireca.com
The Eau Claire Community Association strives to create a vibrant connected community. Our approach to planning and development is to enhance the quality of life for our residents.
Eau Claire Community Newsletter
Your Eau Claire is a free glossy covered community newsletter published monthly (12 times per year), and delivered to every household, apartment and business in Eau Claire. Consisting of community news, event notifications, philanthropic initiatives, real estate statistics, and babysitter lists, Your Eau Claire community newsletter has strong and consistent readership and advertising visibility.


Magazine Style Publications
Glossy Full Color Covers
Circulation: 4,800 Households
12 Publications per Year
Community Calendar
News, Events & Photos
Community Programs
Sports Registrations
Church Announcements
School Announcements
Real Estate Updates
Community Babysitter List
Eau Claire Community Social Media Updates
Eau Claire Community Elected Officials
Eau Claire is represented in the Calgary City Council by Ward 7
Councillor Druh Farrell
Ward 7 Office
P.O. Box 2100, Station M
Calgary, AB, CanadaT2P 2M5
Phone:
403-268-2430
Fax:
403-268-3823
Email:
ward07@

null

calgary.ca
Web:
www.calgary.ca/ward7
Eau Claire is also a part of the Calgary-Buffalo Provincial Electoral District.
MLA Kathleen Ganley
Calgary-Buffalo
#130, 1177 - 11 Avenue SW
Calgary, AB Canada T2R 1K9
Phone:
(403) 244-7737
Fax:
(403) 541-9106
Email:
calgary.buffalo@

null

assembly.ab.ca
Eau Claire Community Real Estate Statistics
Eau Claire Active Listings
Eau Claire Community Demographics
In the City of Calgary's 2012 municipal census, Eau Claire had a population of 1,851 living in 1,328 dwellings, a 8.2% increase from its 2011 population of 1,711. With a land area of 0.5 km2 (0.19 sq mi), it had a population density of 3,700/km2 (9,600/sq mi) in 2012. Residents in this community had a median household income of $80,210 in 2000, and there were 21.8% low income residents living in the neighborhood. As of 2000, 32.7% of the residents were immigrants. A proportion of 98% of the buildings were condominiums or apartments, and 38.7% of the housing was used for renting. For more detailed info visit the 
City of Calgary
 community profiles site.
Eau Claire Community Babysitters
This Community Babysitter List is brought to you by
MyBabysitter.ca
Click on the Babysitter's name to view profile & contact information.
| Babysitter Name | Age | Rate | Course |
| --- | --- | --- | --- |
Eau Claire Community Map – SouthWest Calgary
We strive to connect community associations, community members, and local businesses with insightful newsletters. If you are interested in having your community newsletter published by Great News Publishing, or want to advertise please feel free to
contact us.
Contact Us
Menu
Social Media