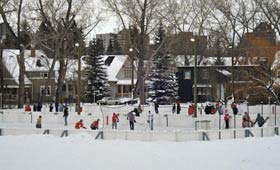 Elbow Park Community Background
Elbow Park is a residential neighbourhood in the south-west quadrant of Calgary, Alberta. It is one of the oldest and wealthiest communities in the city. It is bordered to the south and east by Elbow River, to the east by Elbow Drive, to the north by Council Way and to the west by 14 Street W. Elbow Park was annexed to the City of Calgary in 1907 and developed after 1910, when it was established as a neighbourhood. It is represented in the Calgary City Council by Ward 8 and 11. River Park and Stanley Park, developed in the Elbow River valley, border the community.
Elbow Park Community Association
800-34 Ave SW
Calgary, AB T2T 2A3
Phone:403.243.3783
www.elbowpark.com
president@

null

elbowpark.com
The Elbow Park Community Centre offers a creative playground, two hockey rinks, a pleasure skating rink, a baseball diamond, basketball courts and tennis courts. Many communities belong to the Elbow Park Minor Hockey Association, and these teams make use of Elbow Park's rinks. The rinks are also used in conjunction with the Inter Community Grass Roots League which offers residents a low key chance to play hockey.
The Glencoe Club administers the tennis courts and offers lessons and proshop services. Skating and art programs are offered for community children. The Elbow Park residents Association also serves as an advocate for community concerns, including those relating to traffic issues, development, and Elbow River environmental concerns.
Elbow Park Community Newsletter
The Elbow Scene is a free glossy covered community newsletter published monthly (12 times per year), and delivered to every household, apartment and business in Elbow Park. Consisting of community news, event notifications, philanthropic initiatives, real estate statistics, and babysitter lists, The Elbow Scene community newsletter has strong and consistent readership and advertising visibility.


Magazine Style Publications
Glossy Full Color Covers
Circulation: 7,600 Households
12 Publications per Year
Community Calendar
News, Events & Photos
Community Programs
Sports Registrations
Church Announcements
School Announcements
Real Estate Updates
Community Babysitter List
Elbow Park Community Social Media Updates
Elbow Park Community Officials
Elbow Park is represented in the Calgary City Council by Wards 8 and 11
Councillor Evan Woolley
Ward 8 Office
P.O. Box 2100, Station M
Calgary, AB, CanadaT2P 2M5
Phone:
403-268-2430
Fax:
403-268-3823
Email:
alderweb@

null

calgary.ca
Web:
www.calgary.ca/ward8
Councillor Brian Pincott
Ward 11 Office
P.O. Box 2100, Station M
Calgary, AB, CanadaT2P 2M5
Phone:
403-268-2430
Fax:
403-268-8091
Email:
alderweb@

null

calgary.ca
Web:
www.calgary.ca/ward11
Social Media
Hey @TOAdamVaughan , just emailed your office with my contact info. Hoping to connect.
Elbow Park is also a part of the Calgary Elbow Provincial Electoral District.
Greg Clark
Calgary-Elbow
#205, 5005 Elbow Drive SW
Calgary, AB Canada T2S 2T6
Phone: (403) 252-0346
Fax: (403) 252-0520
Email: calgary.elbow@nullassembly.ab.ca
Elbow Park Community Real Estate Statistics
Elbow Park Active Listings
Elbow Park Community Demographics
In the City of Calgary's 2012 municipal census, Elbow Park had a population of 3,377 living in 1,221 dwellings, a -0.9% increase from its 2011 population of 3,408. With a land area of 1.8 km2 (0.69 sq mi), it had a population density of 1,880/km2 (4,860/sq mi) in 2012.
Residents in this community had a median household income of $135,081 in 2000, and there were 7.7% low income residents living in the neighborhood. As of 2000, 11.1% of the residents were immigrants. Most buildings were single-family detached homes, and 4% of the housing was used for renting. For more detailed info visit the 
City of Calgary
 community profiles site.
Elbow Park Community Babysitters
This Community Babysitter List is brought to you by
MyBabysitter.ca
Click on the Babysitter's name to view profile & contact information.
| Babysitter Name | Age | Rate | Course |
| --- | --- | --- | --- |
Elbow Park Community Map – SouthWest Calgary
We strive to connect community associations, community members, and local businesses with insightful newsletters. If you are interested in having your community newsletter published by Great News Publishing, or want to advertise please feel free to
contact us.
Contact Us
Menu
Social Media