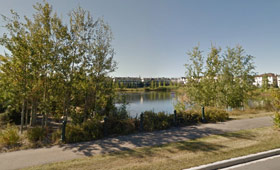 Evergreen Community Background
Evergreen, is a suburban residential neighbourhood in the southwest quadrant of Calgary, Alberta. It is located south of the Fish Creek Provincial Park, and southeast from the Tsuu T'ina first nation reserve.
Development in the area began in 1986 and has been primarily low density residential in nature. Shawnee Slopes is bounded by Fish Creek Provincial Park to the north, Midnapore to the east, Millrise to the south and Evergreen Estates to the west.
The land in this community is characterized by gently undulating prairie, typical of the Calgary region. Major slopes are found along the Fish Creek Valley. The community has a provincially designated historic site, the Shaw Woollen Mill, located near the intersection of James McKevitt Road S.W. and Macleod Trail. Residents of this community enjoy direct access to the downtown via Macleod Trail, and close proximity to the many recreation opportunities found within Fish Creek Provincial Park.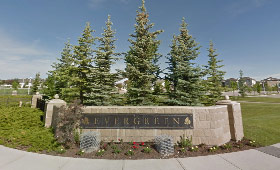 Evergreen Community Association
PO Box 24007 RPO Evergreen
#100, 2250-162 Ave SW
Calgary, AB T2Y 0J9
www.myceca.ca
president@

null

myceca.ca
Evergreen Community Newsletter
Your Evergreen is a free glossy covered community newsletter published monthly (12 times per year), and delivered to every household, apartment and business in Evergreen. Consisting of community news, event notifications, philanthropic initiatives, real estate statistics, and babysitter lists, Your Evergreen community newsletter has strong and consistent readership and advertising visibility.


Magazine Style Publications
Glossy Full Color Covers
Circulation: 7,300 Households
12 Publications per Year
Community Calendar
News, Events & Photos
Community Programs
Sports Registrations
Church Announcements
School Announcements
Real Estate Updates
Community Babysitter List
Evergreen Community Social Media Updates
Evergreen Community Elected Officials
Evergreen is represented in the Calgary City Council by Ward 13
Councillor Diane Colley-Urquhart
Ward 13 Office
P.O. Box 2100, Station M
Calgary, AB, CanadaT2P 2M5
Phone:
403-268-1624
Fax:
403-268-8091
Email:
ward13@

null

calgary.ca
Web:
www.calgary.ca/ward13
Social Media
@660NEWS What an outstanding well written genuine statement @Dfildebrandt. Kudos to you Derek. I can tell this has been difficult and is from the ❤️
Evergreen is also a part of the Calgary-Lougheed Provincial Electoral District.
MLA Dave Rodney
Calgary-Lougheed
#311A, 2525 Woodview Drive SW
Calgary, AB Canada T2W 4N4
Phone:
(403) 238-1212
Fax:
(403) 251-5453
Email:
calgary.lougheed@

null

assembly.ab.ca
Social Media
Thx Evans, Cherish & Lacey/"Two Spirited: Exploring Gender Identity from an Indigenous Lens"/Invaluable GlobalFest Human Rights Forum Event! pic.twitter.com/wHhg94eh2v
Evergreen Community Real Estate Statistics
Active Listings
Evergreen Community Demographics
In the City of Calgary's 2012 municipal census, Evergreen had a population of 20,110 living in 6,961 dwellings, a 3.2% increase from its 2011 population of 19,487. With a land area of 4.6 km2 (1.8 sq mi), it had a population density of 4,370/km2 (11,320/sq mi) in 2012.
Residents in this community had a median household income of $105,640 in 2000, and there were 3.9% low income residents living in the neighbourhood. As of 2000, 18.2% of the residents were immigrants. All buildings were single-family detached homes and 1.3% of the housing was used for renting. For more detailed info visit the 
City of Calgary
 community profiles site.
Evergreen Community Babysitters
This Community Babysitter List is brought to you by
MyBabysitter.ca
Click on the Babysitter's name to view profile & contact information.
| Babysitter Name | Age | Rate | Course |
| --- | --- | --- | --- |
Evergreen Community Map – SouthWest Calgary
Evergreen Schools
Evergreen is home to the following schools.
| School | Phone | Address |
| --- | --- | --- |
| Our Lady of the Evergreens | (403) 500-2120 | 322 Everridge Drive SW |
Evergreen Churches
The following churches are located in Evergreen.
| Church | Phone | Address |
| --- | --- | --- |
| Peace Lutheran Church | (403) 256-1439 | 14640 6 Street SW |
| Southview Alliance Church | (403) 256-4922 | 1436 James McKevitt Road SW |
We strive to connect community associations, community members, and local businesses with insightful newsletters. If you are interested in having your community newsletter published by Great News Publishing, or want to advertise please feel free to
contact us.
Contact Us
Menu
Social Media