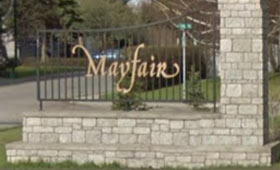 Mayfair Community Background
The community of Mayfair is located east of the Glenmore Reservoir, near the site of the Glenmore Dam. Mayfair was annexed to the City of Calgary in 1956 and neighbourhood developed in approximately 1957. Residents of Mayfair have access to numerous recreational activities provided by the proximity to Heritage Park, the Glenmore Reservoir, Calgary Golf and Country Club, and the pathway. Direct access to the Downtown, which is approximately 6 kilometres north of Mayfair, is available via Elbow Drive.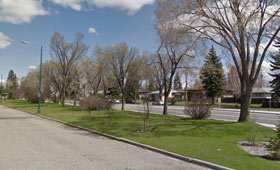 Mayfair Bel-Aire Community Association
www.mayfairbelaire.com
membership.mayfairbelaire@

null

gmail.com
This community was annexed to the City of Calgary in 1954 and substantial development occurred in approximately 1960. Views of the City, the Glenmore Reservoir, the Elbow River Valley, and the Rocky Mountains are enjoyed in Bel-Aire. The many open spaces in the area, including Lincoln Park, Glenmore Reservoir, and the pathway provide Bel-Aire and Mayfair residents with many recreational opportunities. The Downtown is located approximately 6 kilometres north of Mayfair, along Elbow Drive.
Mayfair Community Elected Officials
Mayfair is represented in the Calgary City Council by Ward 11
Councillor Jeromy Farkas
Ward 11 Office
P.O. Box 2100, Station M
Calgary, AB, CanadaT2P 2M5
Phone:
403-268-2430
Fax:
403-268-8091
Email:
ward11b@

null

calgary.ca
Web:
www.calgary.ca/ward11
Mayfair is also a part of the Calgary Elbow Provincial Electoral District.
MLA Greg Clark
Calgary-Elbow
#205, 5005 Elbow Drive SW
Calgary, AB Canada T2S 2T6
Phone:
(403) 252-0346
Fax:
(403) 252-0520
Email:
calgary.elbow@

null

assembly.ab.ca
Mayfair Community Real Estate Statistics
Mayfair Active Listings
Mayfair Community Demographics
In the City of Calgary's 2012 municipal census, Mayfair had a population of 481 living in 156 dwellings, a 2.3% increase from its 2011 population of 470. With a land area of 0.3 km2 (0.12 sq mi), it had a population density of 1,600/km2 (4,200/sq mi) in 2012.
Residents in this community had a median household income of $116,131 in 2000, and there were 8.5% low income residents living in the neighborhood. As of 2000, 15.2% of the residents were immigrants. All buildings were single-family detached homes, and none of the housing was used for renting. For more detailed info visit the 
City of Calgary
 community profiles site.
Mayfair Community Babysitters
This Community Babysitter List is brought to you by
MyBabysitter.ca
Click on the Babysitter's name to view profile & contact information.
| Babysitter Name | Age | Rate | Course |
| --- | --- | --- | --- |
| | | | |
| --- | --- | --- | --- |
| Abigail | 20 years old | 15 | no |
| Adrienne | 15 years old | 10 | yes |
| Alexandra | 35 years old | $12.00 | yes |
| Alison | 25 years old | $16+ | yes |
| Alison | 19 years old | 15 | yes |
| Allison | 16 years old | 12 | yes |
| Alora | 23 years old | 13-15 | no |
| Alyshia | 26 years old | 20 | yes |
| Amber | 32 years old | 15-18 | yes |
| Angelica | 22 years old | 13-17 | yes |
| Angelina | 36 years old | 12.00 | no |
| Angelina | 36 years old | 12 | no |
| Anjali | 15 years old | $8 -12 | yes |
| Anna | 15 years old | Going rate | yes |
| Annika | 13 years old | 10 | yes |
| ariel | 19 years old | 9 | no |
| Ariel | 19 years old | 10 | no |
| Asha | 14 years old | 7-9 | yes |
| Ashley | 22 years old | 15-20; varies with family needs | yes |
| Ashley | 22 years old | 15 | no |
| Aurora | 19 years old | $15 | yes |
| Autumn | 19 years old | $15/hour | no |
| Autumn | 18 years old | 13 | yes |
| Avery | 15 years old | 12 | yes |
| Barbara | 57 years old | $14.00 | no |
| Blaise | 26 years old | $15-$20 | yes |
| Bobbi | 23 years old | 13 | yes |
| Brittney | 19 years old | 15 | yes |
| Brittney | 20 years old | 15 | yes |
| Camila | 29 years old | $13 | no |
| Carly | 20 years old | 14 | yes |
| Catherine | 29 years old | 16 | yes |
| Chloe | 15 years old | 10$/h (min. 3 hrs) | yes |
| Christoph | 26 years old | $10.50 | yes |
| Cindy | 24 years old | 13 | no |
| Claudia | 23 years old | 15$ | no |
| Connie | 18 years old | 15 | no |
| Dana | 20 years old | 13 | yes |
| Danita | 23 years old | 12 | yes |
| Darci | 19 years old | 10.00-12.00 | yes |
| Daria | 18 years old | 13-14 | yes |
| Deidra | 28 years old | 15-25 | yes |
| Deidra | 30 years old | 12-20 | yes |
| Desiree | 25 years old | 17-20 | yes |
| Devon | 15 years old | 7.00 | yes |
| Elaura | 20 years old | 10 | yes |
| Elizabeth | 24 years old | 15.00 | yes |
| Elizabeth | 24 years old | 17.00 | yes |
| Ella | 18 years old | $13/negotiable | no |
| Emilie | 24 years old | $10.00-$15.00 Flexible | yes |
| Emma | 26 years old | $10-15 | no |
| Erika | 20 years old | 12.50 | yes |
| Erin | 28 years old | 12.50 | yes |
| Eugene | 20 years old | 15 | yes |
| Evan | 14 years old | 10 | no |
| Evelyn | 13 years old | 4 | yes |
| Genevieve | 27 years old | 16 | yes |
| Genevieve | 15 years old | 12 | yes |
| Gia | 17 years old | $12-16 | yes |
| Gillian | 18 years old | 9$ before 12:00 12$ after 12:00 | yes |
| Haley | 24 years old | 20 | yes |
| Hannah | 16 years old | $10 – $14 | yes |
| Harvinder Kaur | 33 years old | $12-$15 | yes |
| Heather | 31 years old | 20 | yes |
| Heather | 30 years old | 10 | yes |
| Heather | 30 years old | 10-15 | yes |
| Henry | 17 years old | 11 ~ 20 | yes |
| Jakarta | 20 years old | 15 | no |
| Jamie-lyn | 23 years old | $15 | no |
| Jane | 52 years old | 12/hr | yes |
| Jessica | 20 years old | $12 | yes |
| Jordan | 17 years old | 13.60 | no |
| josefa | 27 years old | 12 | yes |
| Julianna | 18 years old | 10 | yes |
| Kailey | 20 years old | 18 | yes |
| Kaitlyn | 15 years old | 10.00 | yes |
| Kaleigh | 15 years old | 6 | yes |
| Kassy | 29 years old | 10 | no |
| Katharine | 19 years old | 10.00 | no |
| Katrina | 16 years old | 10.00 | yes |
| Kayla | 24 years old | 16 | yes |
| Kerri | 33 years old | 15 | no |
| Kiera | 15 years old | Negotiable | yes |
| Kiki | 19 years old | $15 | yes |
| Kim | 26 years old | $15-$20 | yes |
| Kourtney | 20 years old | 15-18 | yes |
| Kristine | 29 years old | $13 – $15 | yes |
| Kristyn | 20 years old | 13-15 | yes |
| Kyara | 14 years old | $10 | yes |
| Kylie | 28 years old | $15-$20 | yes |
| Laura | 22 years old | 12-20 (will discuss for each situation) | no |
| Lev | 14 years old | $10-15 | yes |
| Lilly | 17 years old | 11 or above | yes |
| Lisa | 31 years old | 12.00 | no |
| Louise | 56 years old | 12 | no |
| Luka | 18 years old | 15$ | no |
| Maddy | 20 years old | 12 | yes |
| Maddy | 20 years old | 15 | yes |
| Madeline | 21 years old | 15 | no |
| Makenzie | 19 years old | 10 | yes |
| Maria | 46 years old | $20.00 | no |
| Mariah | 25 years old | 17-20 | no |
| Marina | 16 years old | 10 | yes |
| Mattea | 14 years old | 10 | yes |
| Maxine | 15 years old | 5 | yes |
| Megan | 18 years old | 12 | yes |
| Megs | 31 years old | 15 | yes |
| Michelle | 33 years old | 16 | yes |
| Michelle | 24 years old | 17-20 | no |
| Michelle | 24 years old | $15.00 | no |
| Michelle | 17 years old | Negotiable | no |
| Mila | 24 years old | 12.0 | no |
| Myrian | 19 years old | 15 | yes |
| Natalie | 23 years old | 12 | yes |
| Nia | 18 years old | 10$ | yes |
| Norma | 38 years old | 18 | yes |
| Olivia | 18 years old | $15 | yes |
| Opey | 22 years old | 12 (negotiable) | yes |
| Paige | 21 years old | 12-15$ | yes |
| Pam | 28 years old | Negotiable | yes |
| Paula | 18 years old | 12 | yes |
| Polina | 16 years old | 10 | yes |
| Priscilla | 28 years old | 14 | yes |
| Quinn | 15 years old | Negotiable | yes |
| Rachel | 19 years old | 15 | yes |
| Salma | 40 years old | 45 per day | yes |
| sam | 16 years old | $10/per hour | yes |
| Samantha | 27 years old | 15 | yes |
| shawna | 31 years old | 12 | yes |
| Shelby | 17 years old | $11-$15 per hour depending on age and number of children open to discuss rate | yes |
| Shumaila | 38 years old | 8 | no |
| Siobhan | 24 years old | 17-20 | no |
| Siobhon | 15 years old | 10 | no |
| Sofia | 16 years old | 10$/hr for one child 15$/hr for two children | yes |
| Sophie | 30 years old | 15 | yes |
| Tamara | 23 years old | 10/15$ | yes |
| Teryl | 23 years old | 10 | no |
| Tessa | 24 years old | 15 | yes |
| Tianna | 17 years old | Negotiable | yes |
| Tianna | 17 years old | $10 | no |
| Vanessa | 25 years old | $6-$10 | yes |
| Vaughn | 18 years old | 14$ hourly | yes |
| Victoria | 20 years old | 10-11 | no |
| Yena | 21 years old | $15-$20 | yes |
Mayfair Community Map – Southwest Calgary