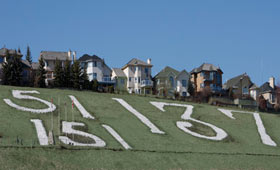 Signal Hill Community Background
Signal Hill is a relatively large community situated on the western edge of the built-up area of Calgary. Although the area was annexed to the city in 1956, it did not start to develop until 1986. The primary form of development in the area is low density residential. Signal Hill is part of an elevated plateau which stretches west for a distance of approximately 7 kilometres. As a result, there are some excellent views of the mountains and the Elbow River Valley.
The Canadian Armed Forces used part of the Signal Hill for training purposes in the First World War. The regiments who trained in this area had their identification numbers set, using large characters & stone as the material, into the hill side.
Signal Hill Community Association
1150, 246 Stewart Green SW
Calgary, AB - T3H 3C8
Phone: 403.819.1905
www.shca.ca
president@

null

shca.ca
A Signal Hill Community Association (SHCA) membership supports the activities of our community. The Signal Hill Community Association liaisons with other groups which provide services for the community. SHCA brings concerns of the community forward and helps support new initiatives that benefit the people in our community. The Community associations is a neighbourhood-based volunteer organization, that provides a voice for community life, an overall sense of belonging, and social, educational and recreational opportunities for their residents. Everyone is welcome to attend the monthly meetings, and particularly the annual general meeting, where many community members purchase or renew their Community Association Memberships.
Signal Hill, Christie Park & Strathcona Community Newsletter
Your Westhills is a free glossy covered community newsletter published monthly (12 times per year), and delivered to every household, apartment and business in Signal Hill, Christie Park & Strathcona. Consisting of community news, event notifications, philanthropic initiatives, real estate statistics, and babysitter lists, Your Westhills community newsletter has strong and consistent readership and advertising visibility.


Magazine Style Publications
Glossy Full Color Covers
Circulation: 8,900 Households
12 Publications per Year
Community Calendar
News, Events & Photos
Community Programs
Sports Registrations
Church Announcements
School Announcements
Real Estate Updates
Community Babysitter List
Signal Hill Community Social Media Updates
Signal Hill Community Elected Officials
Signal Hill is represented in the Calgary City Council by Ward 6
Councillor Jeff Davison
Ward 6 Office
P.O. Box 2100, Station M
Calgary, AB, CanadaT2P 2M5
Phone:
403-268-1646
Fax:
403-268-3823
Email:
ward06@

null

calgary.ca
Web:
www.calgary.ca/ward6
Signal Hill is also a part of the Calgary West Provincial Electoral District.
MLA Mike Ellis
Calgary-West
Unit 234, 333 Aspen Glen Landing SW
Calgary, AB Canada T3H 0N6
Phone:
(403) 216-5439
Fax:
(403) 216-5441
Email:
calgary.west@

null

assembly.ab.ca
Social Media
Problem retrieving data from Twitter
Signal Hill Community Real Estate Statistics
Signal Hill Active Listings
Signal Hill Community Demographics
In the City of Calgary's 2012 municipal census, Signal Hill had a population of 13,914 living in 5,253 dwellings, a 0.9% increase from its 2011 population of 13,795. With a land area of 5.6 km2 (2.2 sq mi), it had a population density of 2,485/km2 (6,440/sq mi) in 2012.
Signal Hill is a wealthy neighborhood, with the median household income of $133,844 (2011). The wealthier residents ($200,000- $400,000 median household income) live in Upper Signal hill, which is located on the top of the hill, above the first few rows of houses which are locate above the famous Signal Hill numbers. As of 2006, 4% of the residents were immigrants. For more detailed info visit the 
City of Calgary
 community profiles site.
Signal Hill Community Babysitters
This Community Babysitter List is brought to you by
MyBabysitter.ca
Click on the Babysitter's name to view profile & contact information.
| Babysitter Name | Age | Rate | Course |
| --- | --- | --- | --- |
Signal Hill Community Map – Southwest Calgary

[flexiblemap src="http://great-news.ca/Communities/Calgary/SW/Signal_Hill/Community.kml" width="95%" height="580″ zoom="14″ kmlcache="8 hours"]
We strive to connect community associations, community members, and local businesses with insightful newsletters. If you are interested in having your community newsletter published by Great News Publishing, or want to advertise please feel free to
contact us.
Contact Us
Menu
Social Media