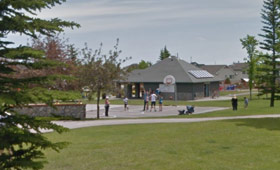 Somerset Community Background
Somerset is a residential neighbourhood in the south-west quadrant of Calgary, Alberta. Somerset is a relatively new neighbourhood, being established in 1995. It is located at the southern edge of the city, north of the Spruce Meadows Trail and east from the community of Bridlewood and west from Macleod Trail. The Spruce Meadows equestrian facility is located immediately south-west. The community is served by the Somerset-Bridlewood station of the C-Train LRT system.
Somerset Bridlewood Community Association
Box 69056, RPO Bridlewood SW
Calgary, Alberta
T2Y 4T9
www.mysbca.ca
info@

null

mysbca.ca
The Somerset and Bridlewood community association currently lacks a community center but remains active in programming. The grand historic Shawnessey Barn is used for community dances. The community also enjoys an excellent relationship with nearby Spruce Meadows and often makes use of their facilities for special events such as Canada Day celebrations. The community is also closely tiers with neighboring Midnapore, where children can register for sports. Also in Midnapore is the new South Fish Creek recreation center, which offers a variety of recreational opportunities. Baseball diamonds and a waterpark can also be found in Somerset. The community association also works to address issues such as traffic concerns and is a member of the South Fish Creek Transportation Action Committee.
Somerset Bridlewood Community Newsletter
Your Somerset Bridlewood is a free glossy covered community newsletter published monthly (12 times per year), and delivered to every household, apartment and business in Somerset Bridlewood. Consisting of community news, event notifications, philanthropic initiatives, real estate statistics, and babysitter lists, Your Somerset Bridlewood community newsletter has strong and consistent readership and advertising visibility.


Magazine Style Publications
Glossy Full Color Covers
Circulation: 7,900 Households
12 Publications per Year
Community Calendar
News, Events & Photos
Community Programs
Sports Registrations
Church Announcements
School Announcements
Real Estate Updates
Community Babysitter List
Somerset Community Social Media Updates
Somerset Community Elected Officials
Somerset is represented in the Calgary City Council by Ward 13
Councillor Diane Colley-Urquhart
Ward 13 Office
P.O. Box 2100, Station M
Calgary, AB, CanadaT2P 2M5
Phone:
403-268-1624
Fax:
403-268-8091
Email:
ward13@

null

calgary.ca
Web:
www.calgary.ca/ward13
Somerset is also a part of the Calgary-Shaw Provincial Electoral District.
MLA Graham Sucha
Calgary-Shaw
#328, 22 Midlake Blvd SE
Calgary, AB Canada T2X 2X7
Phone:
(403) 256-8969
Fax:
(403) 256-8970
Email:
calgary.shaw@

null

assembly.ab.ca
Somerset Community Real Estate Statistics
Somerset Active Listings
Somerset Community Demographics
In the City of Calgary's 2012 municipal census, Somerset had a population of 8,540 living in 3,136 dwellings, a 1.7% increase from its 2011 population of 8,401. With a land area of 2.3 km2 (0.89 sq mi), it had a population density of 3,710/km2 (9,620/sq mi) in 2012.
Residents in this community had a median household income of $88,150 in 2000, and there were 6.6% low income residents living in the neighborhood.As of 2000, 23.1% of the residents were immigrants. A proportion of 10.8% of the buildings were condominiums or apartments, and 4.8% of the housing was used for renting. For more detailed info visit the 
City of Calgary
 community profiles site.
Somerset Community Babysitters
This Community Babysitter List is brought to you by
MyBabysitter.ca
Click on the Babysitter's name to view profile & contact information.
| Babysitter Name | Age | Rate | Course |
| --- | --- | --- | --- |
Somerset Community Map – Southwest Calgary

[flexiblemap src="http://great-news.ca/Communities/Calgary/SW/Somerset/Community.kml" width="95%" height="580″ zoom="14″ kmlcache="8 hours"]
Somerset Schools
Somerset is home to the following schools.
| School | Phone | Address |
| --- | --- | --- |
| Bishop O'Byrne High School | (403) 500-2103 | 333 Shawville Boulevard Southeast #500 |
| Learning Experience | (403) 256-1417 | 10-17107 James McKevitt Rd SW |
We strive to connect community associations, community members, and local businesses with insightful newsletters. If you are interested in having your community newsletter published by Great News Publishing, or want to advertise please feel free to
contact us.
Contact Us
Menu
Social Media