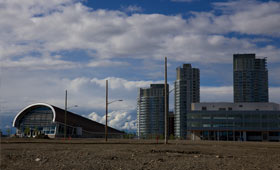 Westgate Community Background
The community of Westgate is located on the bluffs of southwest Calgary. The area was annexed in 1956 and development began in 1957. Westgate offers a number of recreational opportunities to residents, with Glendale Meadows and Edworthy Park being located nearby. In addition, the eastern edge of the community is a pathway. The community also offers easy access to Calgary's downtown, as it is located between two major routes, 17th Avenue and Bow Trail. There are also three schools, both public and separate, located in the area.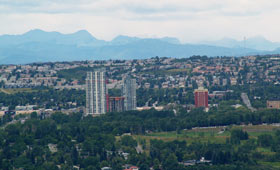 Westgate Community Association
4943-8 Ave SW Calgary,
AB - T3C 3V4
Phone: 403.249.5656
www.westgatecommunity.ca
Westgate community association has ample green space, and also has an excellent relationship with neighbouring Rosscarrok community. The two regularly use each others fields for sporting events. The community has a paved outdoor skating rink as well as a playground. The community centre houses a variety of activities, such as Boy Scouts, Girl Guides, an exercise class, a church group, and bridge teams. Outside, t-ball, soccer and teen pick up baseball are popular. The community association is also affiliated with Tri-West Soccer and Trails West hockey. Westgate also sponsors a number of special events, including June sports day, a Christmas craft sale and a Winter festival.
Westgate Community Elected Officials
Westgate is represented in the Calgary City Council by Ward 6
Councillor Jeff Davison
Ward 6 Office
P.O. Box 2100, Station M
Calgary, AB, CanadaT2P 2M5
Phone:
403-268-1646
Fax:
403-268-3823
Email:
ward06@

null

calgary.ca
Web:
www.calgary.ca/ward6
Westgate is also a part of the Calgary West Provincial Electoral District.
MLA Mike Ellis
Calgary-West
Unit 234, 333 Aspen Glen Landing SW
Calgary, AB Canada T3H 0N6
Phone:
(403) 216-5439
Fax:
(403) 216-5441
Email:
calgary.west@

null

assembly.ab.ca
Social Media
Problem retrieving data from Twitter
Westgate Community Real Estate Statistics
Westgate Active Listings
Westgate Community Demographics
In the City of Calgary's 2012 municipal census, Westgate had a population of 3,172 living in 1,334 dwellings, a 2.3% increase from its 2011 population of 3,101. With a land area of 1.2 km2 (0.46 sq mi), it had a population density of 2,640/km2 (6,850/sq mi) in 2012.
Residents in this community had a median household income of $54,309 in 2000, and there were 10.4% low income residents living in the neighborhood. As of 2000, 14.2% of the residents were immigrants. A proportion of 14.6% of the buildings were condominiums or apartments, and 24.3% of the housing was used for renting. For more detailed info visit the 
City of Calgary
 community profiles site.
Westgate Community Babysitters
This Community Babysitter List is brought to you by
MyBabysitter.ca
Click on the Babysitter's name to view profile & contact information.
| Babysitter Name | Age | Rate | Course |
| --- | --- | --- | --- |
Westgate Community Map – Southwest Calgary

[flexiblemap src="http://great-news.ca/Communities/Calgary/SW/Westgate/Community.kml" width="95%" height="580″ zoom="14″ kmlcache="8 hours"]