Your Arbour Lake
Last Updated on December 5, 2017
by Great News Publishing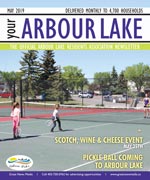 Arbour_Lake Community Newsletter
Arbour_Lake Community Newsletter
Arbour_Lake Community Newsletter has strong readership and advertising visibility. This Newsletter is published by Great News Publishing with the goal of bringing residents together and supporting the Arbour_Lake community, its local businesses, events, and services.
About Your Arbour Lake
Your Arbour Lake is the official Arbour Lake Community Association Newsletter. Your Arbour Lake is a free glossy covered magazine style newsletter published monthly (12 times per year), and delivered to every household, apartment and business in the Arbour Lake community. Consisting of community news, event notifications, philanthropic initiatives, real estate statistics, and babysitter lists, Your Arbour Lake community newsletter has strong and consistent readership and advertising visibility.
Your Arbour Lake is published by Great News Publishing in partnership with the Arbour Lake Community Association with the goal of bringing Arbour Lake residents together and supporting the community local businesses, events, and services.
To learn more about the Arbour Lake Community Association click here. Call 403-263-3044 to advertise.
FEATURES & CONTENT



Magazine Style Publications
Glossy Full Color Covers
Circulation: 4,700 Households
12 Publications per Year
Community Calendar
News, Events & Photos
Community Programs
Sports Registrations
Church Announcements
School Announcements
Real Estate Updates
Community Babysitter List
Your Arbour Lake Archive
2017
2016
Arbour Lake Community Demographics
In the City of Calgary's 2012 municipal census, Arbour Lake had a population of 10,836 living in 3,918 dwellings, a 0.7% increase from its 2011 population of 10,762. With a land area of 4.4 km2 (1.7 sq mi), it had a population density of 2,463/km2 (6,380/sq mi) in 2012. Residents in this community had a median household income of $70,590 in 2000, and there were 7.4% low income residents living in the neighborhood. bAs of 2000, 25.1% of the residents were immigrants. A proportion of 8.7% of the buildings were condominiums or apartments, and 4.1% of the housing was used for renting. For more detailed info visit the 
City of Calgary
 community profiles site.
5 REASONS TO ADVERTISE IN Your Arbour Lake
Visibility
 - Community residents actively read their community newsletter to stay informed about relevant community news, articles, events, community memberships and philanthropic initiatives.
Supported
 - Community residents support, trust & call businesses that advertise in community newsletters.
Good Cause
 - Advertising in Your Arbour Lake supports the entire cost of printing, and delivering this newsletter to all the residents in Arbour Lake.
Total Points of Call
 - Reaching 22% more households than 'Consumers Choice', community newsletters are the only type of non-goverment publication quali'fied for 'Total Points of Call' delivery with Canada Post.
Proven
 - Advertisers continue to advertise in Your Arbour Lake because they are seeing terrific results.
3 Easy Steps to Advertise in Your Arbour Lake
1. Book your Ad
Call our friendly sales staff at 403.263.3044. Choose your display Ad size, colour, insertion options and newsletters that you want to advertise in.
2. Create your Ad
Submit your text and images. Let us know what your Objectives & Design Preferences are and we will design you ads that will leave the neighbours talking!
3. Review your Ad
We will send you a proof of your ad ready for your approval. You can use your ad for your own business purposes as well!
DISPLAY AD FORMATS & SIZES
Effective advertising start with great ads! At Great News Publishing we offer a variety of advertising formats and sizes.
Display advertising
Display Advertising offer the most flexibility and typically contain text, photographs, logos, maps, and other vital business information. Talk with one of our friendly representatives about your specific needs and we'll help you create a fantastic ad that reflects your business strategy and objectives. All of our ads are printed as PDFs at a resolution of 300 pixels per inch in your choice of either CMYK (full color), spot color, or black and white.
Display ads come in the following sizes:
Business classified advertisements (50 word max)
Business classifieds are a lower cost alternative than larger display advertisements. Business classified ads are showcased in the classified section of Your Arbour Lake. Call our friendly sales team for additional information 403 263 3044.
Your Arbour Lake Monthly Advertising Rates
| Ad Sizes | Black & White | Spot Colour | Full Colour |
| --- | --- | --- | --- |
| Full Page | $383 | $433 | $483 |
| 1/2 Page | $222 | $262 | $312 |
| 1/4 Page | $145 | $175 | $225 |
| 1/8 Page | $96 | $116 | $166 |
| Display Classified | $70 | N/A | N/A |
| Business Classified | $37 | N/A | N/A |
Call Us at 403.263.3044 for more info on our advertising opportunities, or
click here to Request a Quote Online
Your Arbour Lake Distribution Area

Delivered to 4,700 households across the Arbour Lake Community. [flexiblemap src="http://great-news.ca/Newsletters/Calgary/NW/Arbour_Lake/Assets/CommunityLimits.kml" width="95%" height="580″ zoom="14″ kmlcache="8 hours"]
Arbour Lake Community
Visit our Community pages to learn more about the Arbour Lake Community
North West Calgary Community Newsletters
We strive to connect community associations, community members, and local businesses with insightful newsletters. If you are interested in having your community newsletter published by Great News Publishing, or want to advertise please feel free to
contact us.
Contact Us
Menu
Social Media