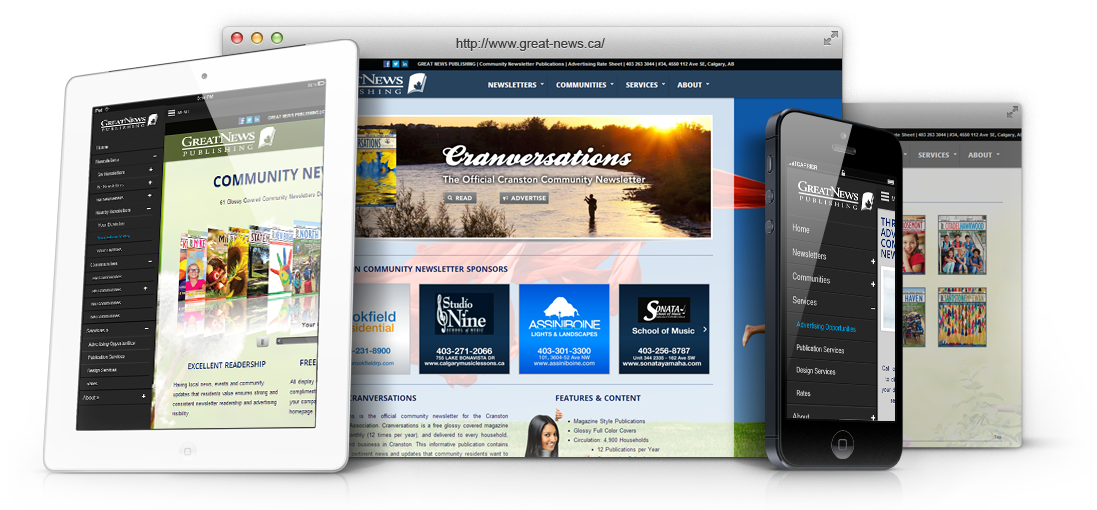 Why Advertise with Great News Publishing?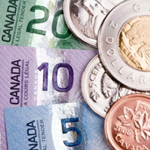 Great Reach for a Great Price
With 87 Community Newsletters Published and Delivered Monthly to 391,000 Households Across 148 Calgary and Area Communities, Great News Publishing provides print advertising for as little as $0.01 per household. Advertisers choose Great News Publishing Ltd. to help them reach their desired demographic and community audience in a publication that not only gets read, but has a 31 day shelf life.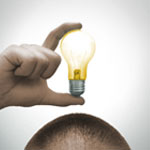 Top of Mind (Brand) Awareness
Why do highly successful corporations including Apple, Coca-Cola, Westjet, and TD Canada Trust still advertise after all these years? Because advertising works! They know the value of consistent branding and how it creates top of mind awareness in their respective industries. These Companies maintain their competitive advantage because they remain in front of their customers. The customers are always reminded of these brands week after week, month after month, and therefore decide to buy their products or services.
Community targeted advertising in a Great News publication helps Calgary businesses build their brands in much the same way. This type of consistent, targeted community advertising is especially effective for local businesses who rely more on neighbouring clients than long distance customers. In addition, it is effective for those companies who wish to speak directly to their targeted clientele while weeding out unwanted, time-consuming inquiries from others.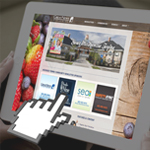 FREE ONLINE ADVERTISING
How important is online marketing for businesses today? The answer is very. Online Advertising can provide significant benefits to an organization by providing a reach, range and scale that before the internet was not possible. That is why we offer free online advertising to All of our newsletter sponsors, connecting our readership to their websites, on each of our newsletter's profile pages.
Long-term Sustainable Competitive Advantage
No matter what industry a business operates in, their market is dynamic. Customers are always adapting; they constantly move between trade areas. Consistent advertising provides a long-term advantage over competitors who may choose to cut back or cancel their advertising after they catch or maintain the attention of their clients. By understanding and accepting this natural churn in the marketplace, businesses can counteract the loss of old customers with new customers, while steadily building a sustainable business over time.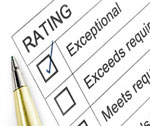 Advertise to Keep a Healthy Positive Image
In a competitive marketplace, advertising that is vigorous and optimistic can bring shoppers to a business regardless of the state of the economy. Consumers still need to buy and often choose to consume from someone they can trust. Over time, a clear and consistent advertising campaign that appeals to their human nature and provides a familiar logo, face, or brand over and over again is the best way to earn that trust.
Three Easy Steps to Advertise in Our Community Newsletters
Since 1989, Calgarians have trusted 
Great News Publishing Ltd
. as a reliable source for timely and targeted community news. Do you want to advertise? All it takes is these easy steps: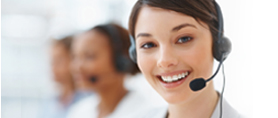 Book your Ad
Call our friendly sales staff at 403-263-3044  to discuss your advertising needs. Choose your display ad, size, options & select which newsletters you want to advertise in.
Create your Ad
Send us any text information, photos or logos, that you would like to appear in your ad, our team graphic artists create an engaging and attractive display ad for your business!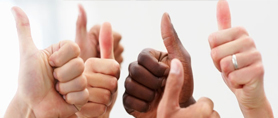 Review & Approve your Ad
We will send you a proof of your ad ready for your approval. You can use your ad for your own business purposes as well!